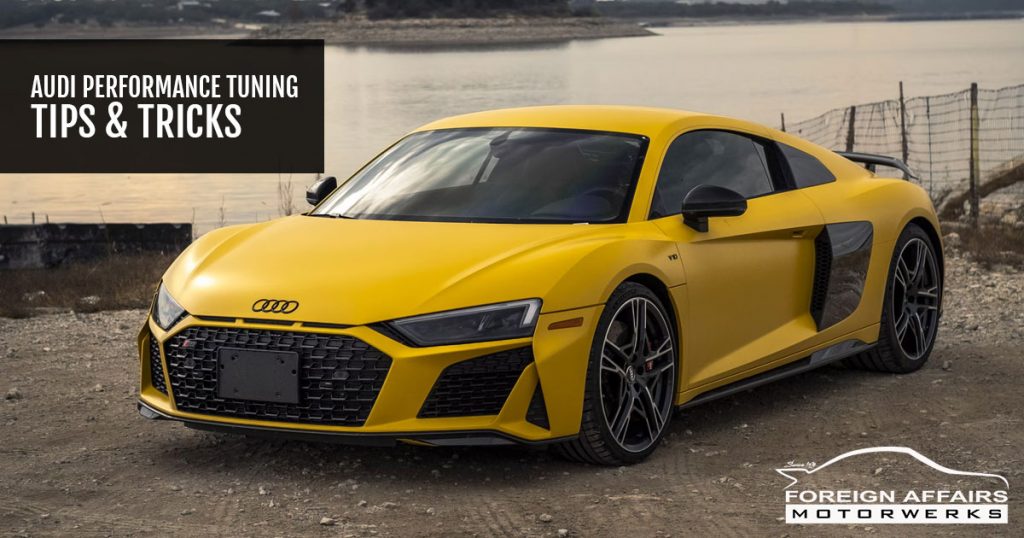 Audi has endeared itself to both the luxury and performance car crowds. With solid build quality, luxurious interiors, and performance to match some supercars, it's easy to see why. When it comes to the performance crowd, Audi's masterful implementation of high horsepower from stock, married to all-wheel drive, and ease of modification has seen the market for Audi performance tuning grow exponentially. With so many options on the market, it is often overwhelming for a new Audi owner to get into the world of tuning. To help, our performance shop pros have put together some of their favorite Audi performance tuning tips and tricks together for the tuning newbie.
Don't Use Replica or Cheap Performance Parts
Anything that has ever been popular, will have their knockoffs, and that's true for performance parts too. As tempting as that $500 turbo upgrade kit on eBay may seem, these parts are often made of inferior materials and are poorly designed. We've seen more than our fair share of cars that needed additional fabrication to fit parts, or have had these cheap parts fail and destroy the engine.
The benefit of using a reputable performance brand, such as APR, is that the parts are designed to work with each other seamlessly, are true bolt-on replacements, and will often be backed by a workmanship guarantee to protect you and your Audi from factory defects in components.
Wheels And Tires Are Performance Parts
People often forget that the only part of your car ever touching the ground should be the tires. A good set of performance tires will do wonders for not only your Audi's handling characteristics but can greatly improve your acceleration times and braking distances.
While Michelin and Continental Tires are OEM suppliers of tires to Audi, one of the first things you should check when buying a used car is the brand, tread depth, and health of the tires. If the tire's tread is low, or from a cheap brand your first modification should be to treat your Audi to a new set of rubber. Couple this with a new set of lightweight wheels and you'll be surprised how much quicker your car feels.
ECU Performance Tunes
What has helped Audi gain such fame amongst tuners is the fact the engine's ECU is easily unlocked with software. This means that performance tuners, like APR, can easily flash a new tuning map to your Audi to unlock more power. The downside of this is that many dealers will void your warranty if an ECU flash is detected during service.
The alternative to this is using a piggyback tuning device such as Cobb's brilliant Accessport or one of Racechip's tuning modules. These devices connect to your car's OBD 2 port and adjust parameters to suit that of the map. The benefit of these devices is that it makes changing your car's map as easy as pressing a button, and allows you to revert to the stock tune for any dealership work. They can be easily removed and reinstalled to further ensure your dealer never knows your car was tuned.
The Sky's The Limit
Now that you have good ground contact and tuning device to take advantage of future mods, your next step in your Audi performance tuning adventure is up to you. You can do basic upgrades such as intakes and exhausts, or go full out with a full turbo upgrade and forged internals upgrade. Our recommended upgrade path after a tune tends to be, intake, exhaust, suspension, brakes, intercooler, turbo, injectors, coil plugs, fuel pumps, radiators, camshafts, and lastly stronger internals.
Audi Performance Tuning Specialists in Pompano Beach
As an authorized dealer for the world's top performance brands, Foreign Affairs Motorwerks is in a unique position to offer you the best performance tuning upgrade path for your Audi and other performance cars. Located in Pompano Beach, we have earned our reputation as being the go-to performance and race prep facility in South Florida. Not convinced? Feel free to contact Foreign Affairs Motorwerks at (954) 746-0488 or visit our shop today!
---