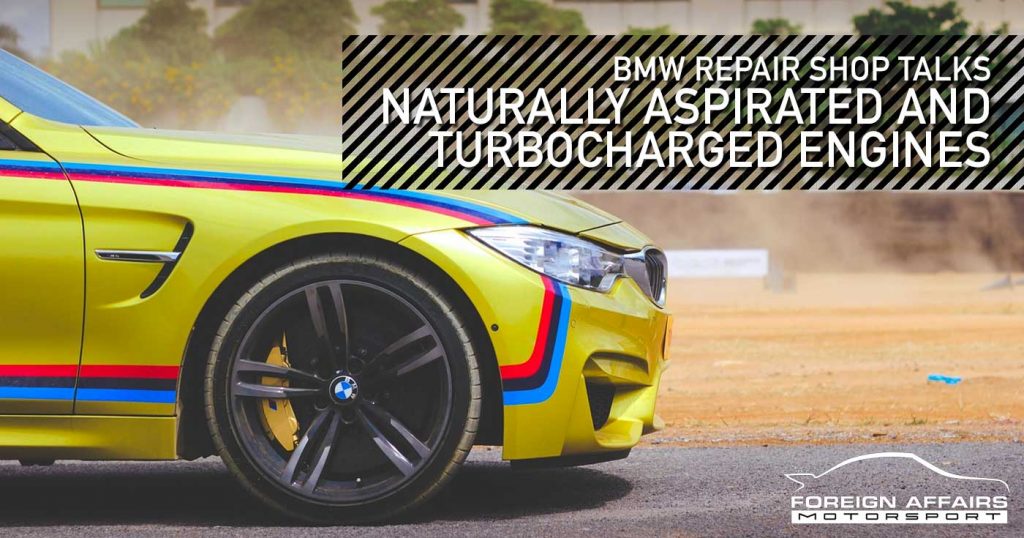 BMW has created some amazing vehicles, and have been at the forefront of engine development especially with their turbocharged and naturally aspirated engines. To keep your car as good as new takes some care, maintenance, and BMW repair. But have you ever considered that different engine types need to be treated differently?
BMW's Atmospheric Aspirated Engines
The naturally aspirated engine is considered the most reliable, as it depends on a vacuum system to draw air in to the manifold. This process is simple and puts less stress on the engine which gives it a longer repair free life. Another bonus to this engine is the fact that the power output has no lag, and immediate response is forthcoming when putting the pedal to the metal.
When considering the cost of services and maintenance on this engine it definitely ends up being a cheaper affair, especially if you come to a BMW certified service center who has the expertise to handle all your needs. Parts are still readily accessible for these engines, as we have a wide variety of certified suppliers available to us, and repairs are mostly wear and tear related.
The drawback on this system is that for a larger output you need to get a larger engine, and more power means more fuel. With this increased usage of fuel, the gas pumping system can be put under stress which will translate to faster wear and tear on the parts such as the fuel pump, fuel filters and fuel injectors. So, when you are feeling a lag in power it could be an indication of the failure of one of these parts.
BMW's Turbocharged Engines
The Turbocharged engine is classic example of the technological advances that have been made since the development of engines. The turbocharger works by forcing more air into the combustion chamber and at the same time regulates the fuel injection process. This process allows the engine to have a higher output while lowering the fuel usage. Today's turbo engines are sleek, small and well-designed yet they still offer the power of their overly muscled cousins, the naturally aspirated engine.
Currently, turbos are becoming relatively common and more affordable. Unfortunately, if something were to happen out of warranty to a turbo they are still an expense you want to avoid. So regular BMW maintenance and checks are a must.
There are a few drawbacks to turbo engines as they are run by forcing some excess exhaust air into the turbo. This increased pressure can create cracks and tears in the air pipes feeding the turbo. These cracks can lead to a loss in power and sometimes allow foreign bodies to get in to the system. Another issue that pops up is usually after some vigorous driving. If the turbo is not allowed to cool down before switching the engine off you could face some issues. To avoid these engine issues, you have to keep it idling for a minute or 2 after use to allow the spool and pump house to have cool air flow through it. If this doesn't happen it will put stress on the internal parts of the turbo which would weaken them and cause early wear and tear.
When you are looking after your engine you need to be aware of how you drive as these habits can affect your performance and engine life. Gradual wear and tear will happen but how you look after your engine will depend on the speed of this. Make sure that when you are looking at either maintenance or repairs you enlist the services of a certified BMW service center. You want the peace of mind that you are looked after and so is your car.
---