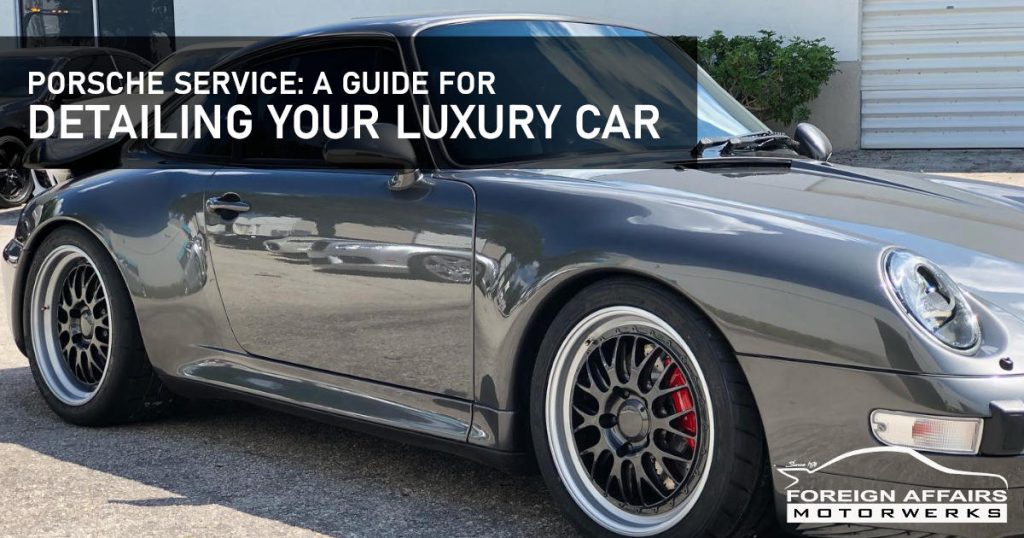 The current austere climate of facemasks and social distancing tends to keep us at home, even though we're no longer locked down, per se. This can lead to a feeling of two-man tent fever, as we Porsche lovers long for the open road. (If you're getting ready to go upstate, make sure your Porsche is ready by taking a look at our Porsche maintenance guide.) Most of us have been stuck for the summer, but there can be some advantages to having the Porsche on the drive. Why not take this opportunity to learn from the Porsche service professionals on how to detail in our easy five step guide?
1. In The Shade, Jim
Don't detail your Porsche in direct sunlight. There are two good reasons for this; firstly, any soaps you use will tend to evaporate quicker and leave a residue on the paint, as opposed to the grime loosening action of the suds that you are looking for. Secondly, a thorough detail should include a wax, and if your Porsche gets too hot, the wax may streak nastily.
2. Start With The Right Tools
Microfiber towels are cheap and come in many different sizes. Get a few different ones and you will be amazed at how well they wash and dry your car without scratching the paint. Additionally, a circular 'hog' brush is the business for working suds into the crevices around plastic trim and windshield wipers. If you really want to go for broke, get a snow foam attachment for your garden hose and make sure you have a good quality (wax free) shampoo.
If you're feeling a little bamboozled by all the different types available, we recommend you stick to Meguiar's soaps.
3. Use Two Buckets
Initially, you want to either rinse your Porsche; or if you have a snow foam attachment, cover it with a thin layer of foam. Work the foam into the crevices (not the body) using your hog-hair brush, and let it sit for a short while before rinsing it off. Ideally you don't want the grime you're removing from the Porsche to contaminate your washing water, so it's best to have two buckets; one with your suds and other with your rinse water. Working from the roof of the Porsche, use a microfiber wash cloth or mitten to apply your suds and work them into nooks and crannies using the brush. Rinse your mitten in the second bucket. Work slowly and thoroughly until the entire vehicle has been soaped up. Rinse off using the hose or a pressure washer.
4. Dry Off In Two Directions
Glass surfaces should be dried in two directions – horizontal wipes for the exterior and vertical ones for the interior. It's inevitable that you will streak the glass, but with this technique it's easy to know which side the streak is on. Never use a dry towel on wet paintwork – either dip it in clean water or use a detailing spray. Before you move onto the next step, treat all of your trim work with a trim protectant. This repels the wax that might end up on it in the next step.
Once your Porsche is squeaky clean and dry, it's time to give it a clay bar treatment. Test for irregularities on the paintwork first, by putting your hand inside a plastic bag and running it along the paint. It will catch on imperfections. Concentrate on these areas with your clay bar. Work carefully but thoroughly until all the paint has been covered. Finally apply a thin coat of good quality wax to keep the clear coat supple.
Porsche Service & Detailing In Pompano Beach
Proper detailing is an art and labor of love. At Foreign Affairs Motorwerks we have over 30 years of experience with Porsche service, as well as many other exotic marques. So, why not pop in and let our friendly team answer all your questions?
---