Preventative Maintenance
Regular Preventive Maintenance Performed By Your Trusted Experts at Foreign Affairs Motorsport in our Pompano Beach Service Location Will Keep Your Vehicle Performing at its Best.

PREVENTIVE MAINTENANCE is just as crucial as factory scheduled services for your high performance vehicle. In other words, it is only wise to deal with a small but potentially serious issue early-on before they become large and expensive repairs.
– With our vast experience and expertise, we know all about the weak links and failure points in many of today's European brands and models.
– From a classic BMW 318i to an exotic Porsche 918 Spyder, our highly knowledgeable technicians know what to look for and can advise a preventive maintenance schedule to fit your specific needs.
– Our family at Foreign Affairs Motorsport in Pompano Beach will only treat your vehicle like it's one of our own – we understand it's your pride and joy.
ON THE ROAD OR ON THE TRACK, OUR HIGHLY EXPERIENCED TEAM AT FOREIGN AFFAIRS MOTORSPORT KNOWS EXACTLY WHAT TO LOOK FOR
– Belts – Extreme temperatures, misalignment, and over or under-tensioned belts can cause premature wear. Preventive maintenance will identify and correct excessive wear/damage to belts and other drive components.
– Hoses – Hoses have a finite service life and are prone to cracks, deterioration, and leakage. Preventive maintenance not only addresses hoses but also covers couplings and fluid/hydraulic components.
– Brakes – Electronic anti-lock braking systems and disc brakes are highly coupled to various sensors and traction control systems. Sensors can often get jammed with regular wear and debris. Preventive maintenance is essential to keep these sensors in working order and avoid any electronic system malfunctions.
– Suspension – A few common symptoms of failing suspension components are poor handling, steering wheel vibrations, noises while turning, and excessive bouncing. All of these symptoms can be avoided by regular preventive maintenance.
We are proud to employ only the best ASE Certified Technicians and Master Technicians at our facility.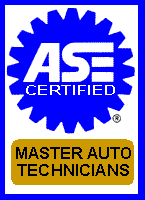 Contact Foreign Affairs Motorsport (954-746-0488) at our Pompano Beach location today for more information regarding Preventive Maintenance on your particular vehicle!
PREVENTATIVE
MAINTENANCE