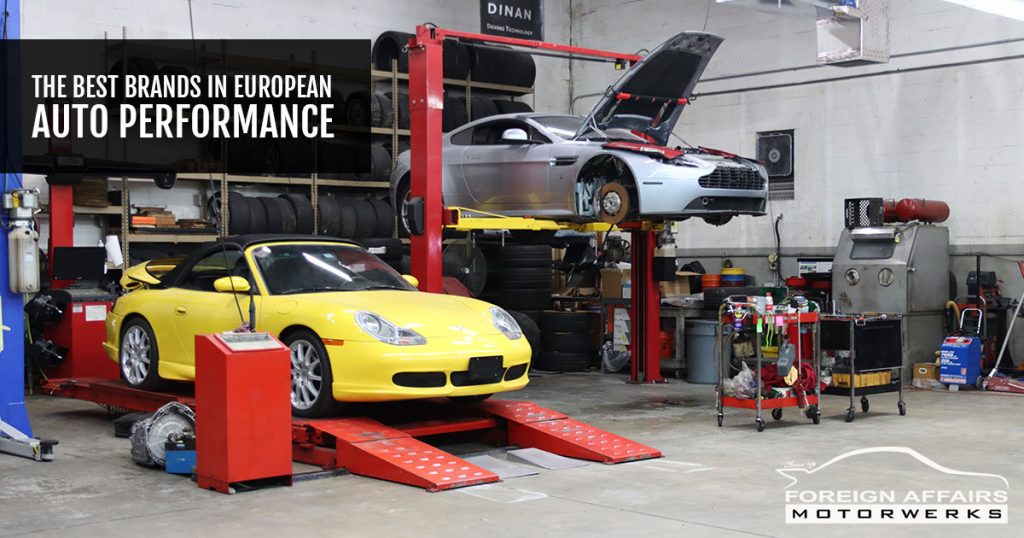 Foreign Affairs Motorwerks (FAMW) specializes in a wide range of European auto performance cars. From head-turning Ferraris and Lambos to Luxurious Bentleys and Rolls-Royces, there are so many reasons to celebrate the best European auto performance brands. Buckle up as we look at some of the best performance brands that FAMW is proud to work on.
Italian Flair
Italian super cars are the real head-turners in the performance car world. At Foreign Affairs Motorwerks, we love working on Ferraris and Lamborghinis. Whether you have the new Ferrari SF90 Stradale or a classic Lamborghini Countach, we take pride in working on all Italian thoroughbreds. These cars are incredibly desirable, and each of these handcrafted beauties deserves personalized attention when it comes to servicing. If you look hard enough, you may even see a Maserati in our workshop from time to time.
The German Premium Range
Audi, BMW, and Mercedes are three highly recognizable brands, and have been top sellers for decades. These three brands all specialize in luxury saloons that still boast punchy performance. The phrase "vorsprung durch technik" will be all too familiar if you're an Audi fan. Translated "ahead due to technology," this sums up Audi's focus. Hi-Tech interiors offer high performance and insane build quality.
BMWs, on the other hand, are known for that next-level performance and grunt. All Bimmers are designed with seductive aggression. Their performance is mated to a precise steering feel. You truly do feel as if you're one with the road. Mercedes Benz is the class leader when it comes to stellar levels of luxury and elegance. Their attention to detail around tactile comfort and safety is inspirational. At FAMW, we have worked on countless numbers of each of these beauties. We specialize in luxury auto repairs for all of these legends.
Porsche Prowess
Porsche is an individual brand when it comes to stand-out looks and performance technology. When you drive a Porsche, you drive with a sense of excitement and energy. Porsche's recent focus on electric performance technology has made them one of the industry leaders. The Porsche Taycan is enjoying excellent global sales currently.
Porsches are a joy to service and work on. We've been privileged to do some seriously cool mods on Porsches, including our work on their smallest offering, the Porsche Cayman. Our performance mods include superchargers, RaceChip performance ECU's, and even performance exhaust systems.
British Luxury Brands
Two names should immediately come to mind here: Bentley and Rolls-Royce, both synonymous with top-drawer luxury. If it's plush carpeting, fine leather upholstery, and subtle styling you enjoy, then this is your playground. Style, sophistication, and elegance are what set these two brands apart. These British luxury legends are synonymous with a sense of style, elegance, and sophistication. The Rolls Royce Phantom and Bentley Continental are two unmatched contenders in the bespoke design arena. These two luxury brands should only be given the best attention and eye to detail when it comes to luxury auto repairs.
The European Auto Repair Specialists
The best brands in European auto performance deserve only the best service and attention. Foreign Affairs Motorwerks specializes in all European performance and luxury brands. Our team of expert technicians will carry out custom servicing while exercising constant attention to detail. With over 125 years of experience, FAMS promises to continue the performance heritage that your European beauty is used to driving in. Call us today at (954) 746-0488.
---