Back in 2004 we at Foreign Affairs Motorsport hosted a Porsche Club America (PCA) Tech Session. It was a hugely successful event, and as such we wanted to have a bit of a throwback to the glorious day. For those who don't know what a Tech Session is. It is a technical meeting, generally used to provide information or ensure a consensus with regards to proposed standards changes. Our PCA Tech Session was a bit more informal, as it was held in order to educate members of Porsche Club America and Foreign Affairs Motorsport clients on tire performance as well as the various brands of tires being offered at the time.
The event was held at Foreign Affairs Motorsport in South Florida and was sponsored by Bridgestone Tires and Champion Porsche. There were various cars on display from GT3 Cup cars to Porsche classics, you could even test drive the new Porsche Cayenne. Thanks to our sponsors we were able to give away various prizes over the course of the day including a set of Bridgestone Tires valued at $1,200.
This Tech Session was one of several Tech Sessions at Foreign Affairs Motorsport. However, we thankfully have some photos to reminisce and share with our readers of the 2004 PCA Tech Session so they can see what a Foreign Affairs Motorsport Tech Session is all about.
PCA Tech Session, overall, we had over 175 people attending the event.
The yellow car on display is a Porsche 996 TT which was being prepped for the annual Gumball 3000 rally which is a 3000-mile international cross-country motor rally which takes place on public roads.
Joseph Mustipher from Bridgestone Tires busy delivering his tire tech talk.
Joseph Mustipher, still talking tires and clearly passionate about his tech talk.
Here we have the second host of the PCA Tech Session, Bobby Valera of Foreign Affairs Motorsport. He was busy calling out raffle numbers for one of the many door prizes that were to be won.
This is a picture of the late Michael S. Joffee busy talking tires with Joseph Mustipher. Mike was a member of the Gold Coast Region Porsche Club of America for 45 years and will be truly missed.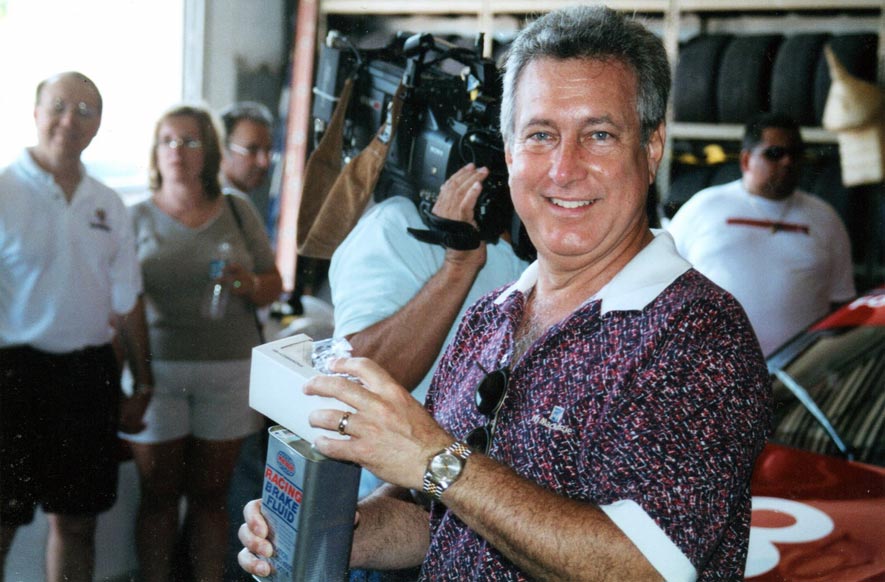 Kyle Rathbun, he was one of our many door prize winners at the Foreign Affairs Motorsport giveaway during the 2004 PAC tech talk.
Here we have Mike posing for a photo. He was making sure to get his fluids in and staying hydrated for the day ahead.
Proud winner of a new Porsche leather briefcase. She was another one of our many door prize winners at the Foreign Affairs Motorsport giveaway during the 2004 PAC tech talk.
Diane with her lovely new Porsche leather briefcase, and with her, her charming husband Mike Hansen who was President of The Gold Coast Region during the time 2004-2005.
Members busy checking out the Porsche Factory GT3 Cup car. This was one of the many cars we had on display for the day. The Porsche GT3 is primarily intended for racing as it's a high performance version of the Porsche 911.
This is a 2003 Porsche 996 C4S Supercharged Sleeper. Another one of the many cars we had on display that day. The 996 Porsche was significantly different from the 911 series as it replaced air-cooled engines with water-cooled engines. The Porsche 996 stopped production in 2004 being replaced by the Porsche Type 997 model in 2005.
The car on display is a fully kitted Mini Cooper which had been modded by the team Foreign Affairs Motorsport. The mod work included aftermarket wheels, brake kit upgrade, improved suspension, dynamic exhaust system, intake upgrade and ECU remapping.
A close up of the Mini Cooper's big brake kit upgrade. Due to the bigger wheels, the Mini Cooper had a performance big brake kit installed as well. You know what they say, bigger is better, especially when it comes to brake power.
This is a picture of a heavily modified, supercharged Porsche Boxster owned by Mark Klein. The mods included aftermarket tires, suspension including sport springs, sport muffler, brake kit, rotor upgrade, gearbox & clutch upgrade, intake mod, and ECU remapping.
A newly joined Porsche club member posing with his beautiful son for a photo in front of the wide array of Porsches we had on display.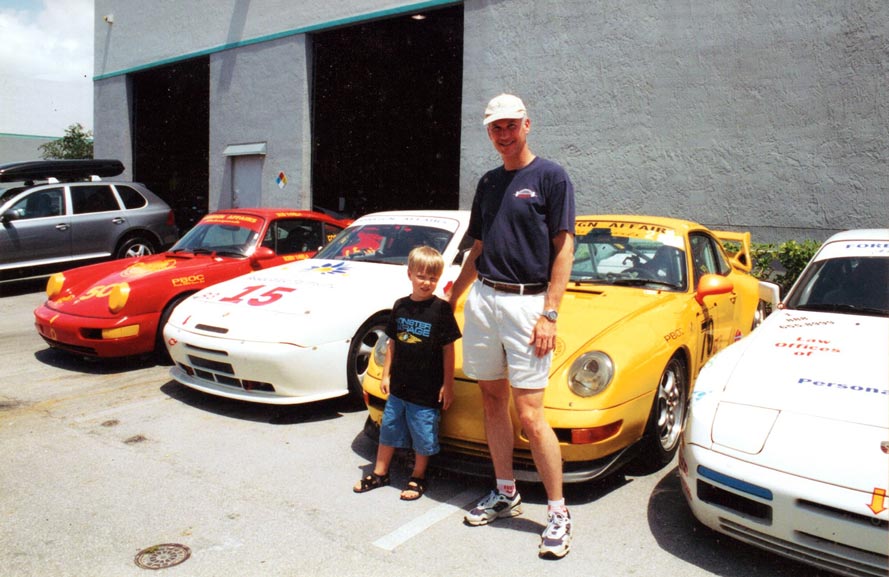 Proud new Porsche Boxster owners and also one of our newest members during the 2004 PAC Tech Session. What better place to show of your new Porsche than an event hosted by Champion Porsche and Bridgestone Tires.
A Porsche Cayenne which was available for all at the PCA tech talk to test drive. The Porsche was kindly sponsored by Champion Porsche.
The Porsche Cayenne is luxury off-road variant sport utility vehicle. It was the first vehicle built by Porsche which housed V8 engine since 1995 (Which was when Porsche discontinued the Porsche 928).
Bob Varela of Foreign Affairs Motorsport explaining to the attendees all the new features the Porsche Cayenne has to offer.
The Porsche Cayenne with turbo was capable of doing 0-62 miles per hour in just 5.6 seconds which was on par with many sports cars of the day.
The 2004 PCA tech talk had a huge turnout and was a huge success, with many prizes being won on the day for some and with all attendees learning valuable information on tire performance as well as having fun. The event was made possible thanks to the sponsors Bridgestone Tires and Champion Porsche. With such amazing events being held at Foreign Affairs Motorsport you should be sure not to miss out on upcoming events in the South Coast by checking out Foreign Affairs Motorsport's online calendar.
---