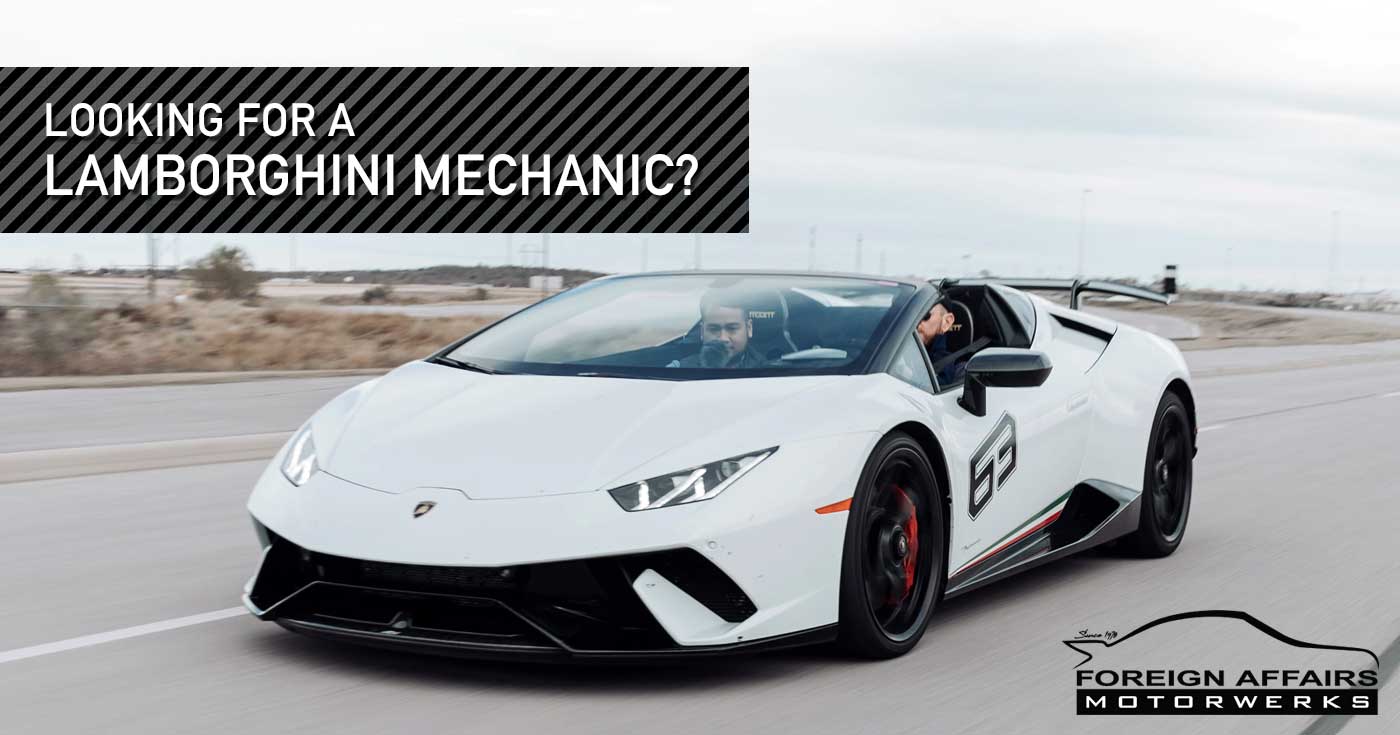 Owning a Lamborghini is an exhilarating experience. However, driving one of these coveted high-performance beauties comes with the added responsibility of keeping it in pristine condition. A Lamborghini is built with perfection in mind. Only a qualified mechanic can maintain this perfection. Here's why you should use a Lamborghini mechanic who understands the intricacies of your car.
Never Miss An Oil Change
High-performance cars such as the Lamborghini Aventador or Huracan require regular oil changes.
This is because the engine oil works under high levels of pressure. The fact that these cars drive so fast means that their engines need to remain lubricated effectively at high speeds. This results in the oil having a comparatively shorter life-span compared to other luxury cars. An authorized mechanic will be able to advise you on the correct intervals for an oil change on your Lamborghini.
Keep The Consumables In Check
In addition to oil changes, your Lamborghini also requires regular consumable changes or changes to parts that are regularly replaced.
This includes components such as engine coolant and tires changes. Engine coolant is what keeps your engine cool during those demanding moments. Coolant needs to be changed regularly to maintain its effectiveness. Tires also have a certain life-span and can lose their grip when worn and should be replaced when required. Preventative maintenance is the best way to keep your Lamborghini's consumables in check.
Scheduled Maintenance Is King
Scheduled maintenance checks will keep your Lamborghini running at its optimum level.
It also ensures that you as the owner remain in compliance when it comes to warranties. Regular services by an authorized dealer will keep your vehicle's factory warranty and extended warranty in check. By observing and following the correct service interval periods, the safety and performance of your vehicle are ensured.
Foreign Affairs Motorsport is a one-stop-shop and offers a comprehensive scheduled maintenance approach. This includes a full diagnostic check to ensure that every area of your vehicle has been thoroughly checked out and serviced. Following a scheduled maintenance plan is the best way to keep your Lamborghini in optimal condition. And it also comes with these key benefits.
Increase Your Car's Value

Second-hand cars with a full service history from a recognized service center will be attractive to buyers. This shows that it has been looked after well and will add to its value. It pays you to use the right mechanic.

Secure Your Safety

Regular services will ensure that all the vital parts of your car are maintained and kept in check. This includes areas such as your brake system which need to be in top condition for any high-performance car. Peace of mind on the road is everything.

Prolong Your Cars Life

Regular maintenance services will go a long way to keep your Lamborghini running well and free from any mechanical problems.

Owning a Lamborghini comes with a certain amount of responsibility. Scheduled maintenance will not only improve the lifespan of your car, but it will also make for many years of sheer driving enjoyment.
Use A Reputable Lamborghini Mechanic
Choosing the right mechanic will make a big difference in the quality of workmanship on your vehicle. Reputable Lamborghini mechanics offer personalized attention to each car they service, and they are backed up with years of experience.
At Foreign Affairs Motorsport we treat each of the vehicles entrusted to us uniquely. Ensure your Lamborghini's longevity by giving it the best servicing possible. We follow the steps laid out by the manufacturers of each model and are meticulous about the details. Call us at (954) 746-0488 or request an appointment today.
---