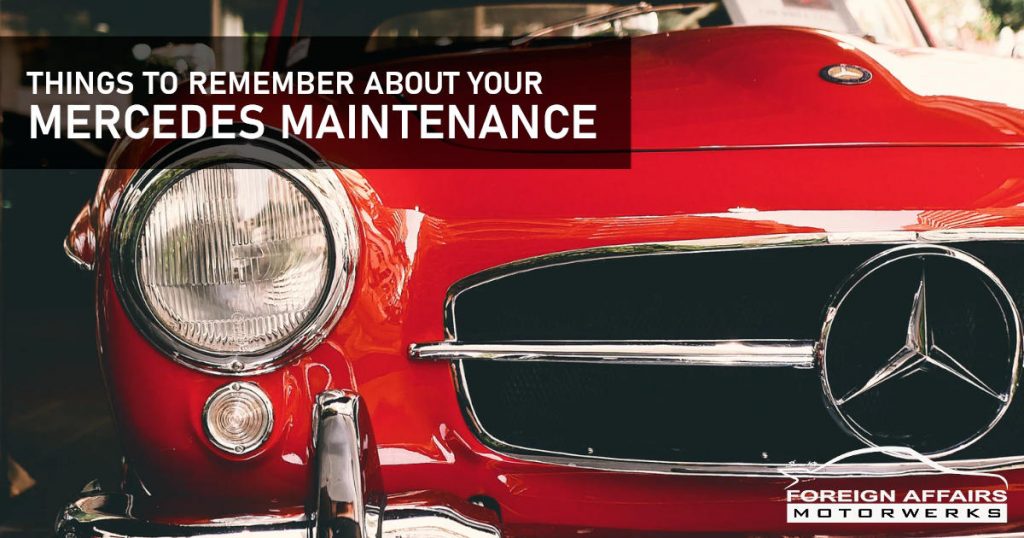 Every Mercedes-Benz is a work of art. Beautifully crafted exteriors, luxurious interiors, a long list of safety features, and impressive performance. You should think of your Mercedes as an investment, and every good investment needs to be monitored and tweaked consistently. In this case, your Mercedes requires scheduled maintenance to keep it in pristine condition, offering you a solid ongoing investment. Here's what you should remember when it comes to Mercedes maintenance.
Oil Changes
Oil performs a few important roles in your engine.
First, it keeps your engine lubricated and running smoothly. This increases the longevity of your engine by protecting it against corrosion. Motor oil prevents debris from causing hard by trapping it inside the engine cavity. Debris can be very harmful by corroding your engine components over time.
Remember, oil changes for your Mercedes should be a top priority. Oil changes also give your mechanic valuable insight into your engine's overall health. If there are deposits in your used engine oil, this can act as a warning sign for other potential issues that may arise. Mercedes-Benz vehicles require synthetic oil to be used for the best performance results.
Fluid Top-Offs
Apart from oil, your Mercedes contains several fluids which all help your engine to run smoothly. These include brake fluid, coolant, transmission fluid, and the headlight and windscreen fluid. These fluid levels need to be monitored regularly and should form part of a scheduled maintenance plan for your Mercedes and checked regularly. An experienced mechanic will know when the various fluids should be replaced. They will also know which fluid brand and mix will be best for your Mercedes.
Replace The Filters
Your Mercedes contains several filters which perform crucial tasks.
Your car's engine consists of oil, fuel, and air filters. These all help to prevent carbon build-up in your engine. This build-up can result in muted performance and increased consumption over time. It can sometimes even lead to engine failure if neglected over a long period. Make sure you get your oil, fuel, and air filters replaced regularly. Other filters help to keep your cabin's atmosphere safe and pollutant-free. Pollen and dust filters help to improve the overall air quality that enters the cabin. They prevent any dust, soot, and pollen from entering your Mercedes' ventilation system. Don't try and monitor all of these filters by yourself, rather get them checked out regularly as part of your Mercedes Maintenance.
Remember Those Tires
Tires are what connect your car to the road and should be kept in top condition. Good quality tires will increase grip on the road and improve your overall handling. This will help to prevent the risk of a collision whilst driving. Tires need to be checked regularly for the amount of wear and any signs of uneven wear. They also need to be inflated at the optimal tire pressure as under-inflated tires increase your risk of an accident by three times! A good technician will also know when it's time to rotate your tires which helps to prolong their life.
Inspect The Brakes
Brakes are another vitally important component on a car when it comes to keeping you safe.
Brake pads and disk checks should form part of a Mercedes maintenance plan. If your brakes aren't responding sharply or are feeling spongy, they may require urgent attention. It's best to get your pads replaced around every 20,000 miles. If you're doing more performance orientated driving, then they may need to be replaced more frequently. Don't wait for your brakes to lose responsiveness or to make strange sounds. Rather make sure your Mercedes has a scheduled maintenance plan in place.
Mercedes Maintenance Done Right
At Foreign Affairs Motorwerks, we boast a full line up of scheduled maintenance packages for your Mercedes. We are a full Mercedes line-up service facility, which means that you can have peace of mind that your Mercedes will be taken good care of. All you have to do is bring your car in, and we'll do a full maintenance assessment for you. As always, we promise to give you the best advice on the right maintenance program for your car. Call us today at (954) 746-0488.
---