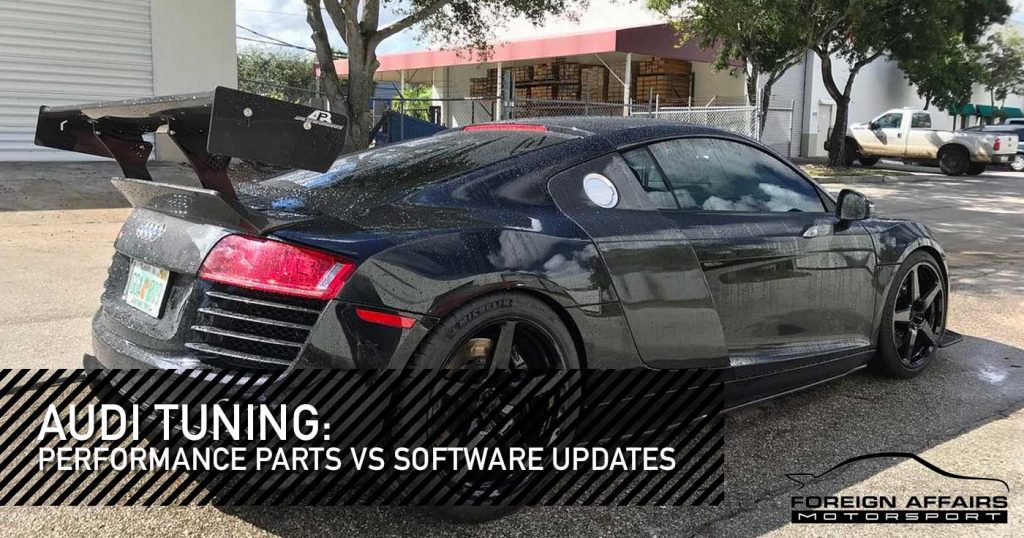 With software turning on the rise, it seems that automated parts are but a thing of the past. However, is this a big improvement over new parts or is this just a phase within the auto industry? Looking at each one and seeing the comparisons and the contrast, when it comes to Audi tuning we will see if either performance parts or software updates are better or the same as each other.
First of all, let's clarify what we mean by "tuning a car". Like an instrument, Audi tuning can be seen as enhancing the performance. However, unlike an instrument, when tuning a car, generally the vehicle is getting modified, either in its performance or appearance. Usually, when it comes to software tuning or performance tuning, it generally means tuning one's engine.
Differences Between Software Updates And Performance Tuning
Most tuning usually involves increasing the power output, handling and speed.
Software updates usually affects the ECM and or ECU by OBD. This is called "mapping". Examples of software can be Veizu, IE and more.

Performance parts aren't just for engines. Sometimes they work alongside with breaks, audio, interior, suspensions, and even tires.
Where To Get Updates And Tuning Done?
Outside of dealers that sell hardware, there are some stores, such as us at Foreign Affairs Motorsport, who specialize in performance parts. Recognizable brands of performance tuning are APR, Neuspeed, XForce, and GruppeM.
That's All Great, But What About Cost?
Before we get into cost and efficiency, we first must look to see the customizability that goes with performance parts and software updating. Software updates really only affect the engine and running of the vehicle and play no real part in interior and exterior customization. Meanwhile, even changing a tire to a better one for customization purposes, can be considered a form of performance tuning. So, when it comes to performance tuning and upgrades, the cost of customization may become a factor to consider. You will then also need to consider the price difference between the two processes.
Software usually costs in the double-digits. The most expensive software mod you can get is a Eurodyne, which costs around $700-$800. However, Performance parts, can cost up to $500, just starting and even go within the $1,000 price range for Audis or more. The priciest tuning part on the market so far is an APR Tuned T3100054, which has an astounding price tag of about $23,749. If cost is propriety for you, we suggest getting some software to update your engine.
But Which IS Better When It Comes To Pure Performance?
One of the best ways to find out the answer to this question is by racing against a stock car at a track. An example of this is a recent video showing the difference between a S4 Stock and a S4 equipped with an APR chip. The stock, went to a speed around 105.7 MPH in 13 seconds. However, the one with the chip, went for about 118 MPH in about 12 seconds. That's 13 MPH over a second difference. This would seem to be substantial. Another video, showing an Audi S3 with performance parts, race against a stock, has the upgraded Audi being able to go 124 MPH in about 11 seconds. That's again, 6 MPH over a second difference.
Even though cheap and efficient, software does not have the customizability nor the performance of performance parts. So, although some could argue that it is an almost even scale, if you are needing that extra boost, performance parts won't let you down.
If you need a cheap, and efficient way for your car to handle easier and perform faster, software won't let you down! However, if you really want to push the envelope, or if you need to tune outside of the engine, then performance parts are right for you.
---