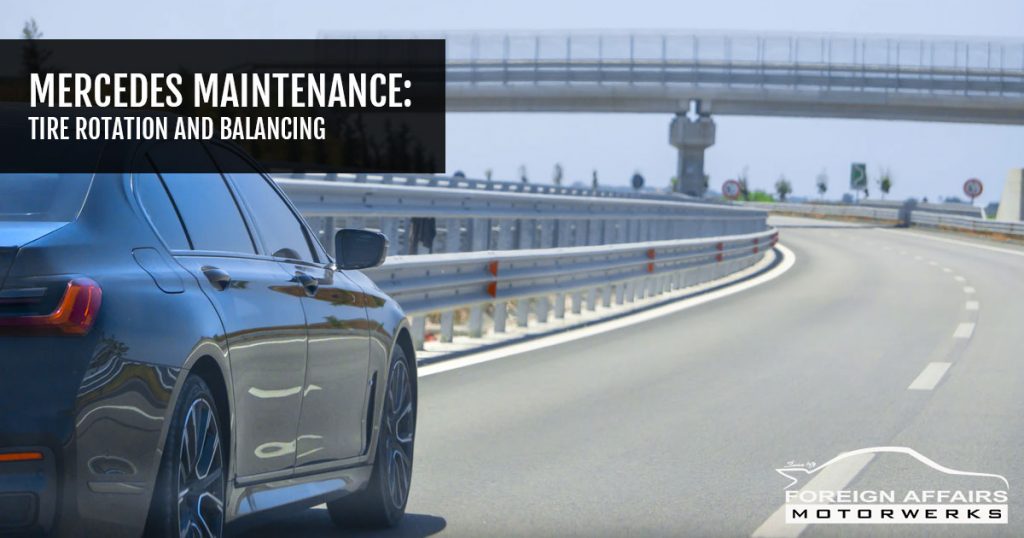 Have you ever purchased a set of tires for your Mercedes, only to discover that they didn't last as long as they were made to? Or have you noticed a slight vibration in your steering wheel lately? Your car's tires may need to be rotated and balanced.
Listen, we know the driving in Florida can be a bit hectic, (ahem); to say the least. Sure, you can't control how other people drive, but you can control a basic car maintenance schedule. Here's a look at the importance of regular Mercedes maintenance for your tires.
It's car safety 101, folks, really. Looking after your tires today will ensure that they look after you the next time you're cruising down Las Olas Boulevard…
Balancing Your Tires
Tire balancing ensures an even weight distribution around your tire. Although your tires are round, their weight distribution isn't always perfect. Everyday wear can also affect a tire's wear and heavier spots around the tire.
When your Mercedes' tires aren't balanced correctly it can result in one or more of the following symptoms:
Uneven tread wear
Faster than usual tread wear
Poor fuel economy
Vibration in your steering wheel and floorboards
Tires are balanced by attaching small weights into the wheel to balance out the weight distribution. Firstly, the tire is placed onto a tire balancing machine. The wheel is then spun, and vibration measurements are taken. This tells the technician exactly where the weight distribution is incorrect, as well as how to correct it. Finally, the technician will place a small weight on the wheel close to the tire to balance out the weight. These weights are often just a fraction of an ounce.
Remember: regular tire balancing should always be a part of your Mercedes maintenance.
Don't Forget About Tire Rotation
Tire rotation is the process of rotating the position of your tires to even out their wear and tear. You may not know, but your front tires wear faster than your rear tires. This is because they take on more of the steering torque that's required for accelerating, braking, and turning.
Rotating your tires will ensure that you maintain even tread across your tires. The last thing you want is hour front tires running low on tread while your back tires still have plenty of it. Cornering, accelerating, and braking are all improved when you have even tire wear.
Finally, if you have an all-wheel-drive vehicle, evenly worn tires minimize the stress placed on the drivetrain. This means that your expensive drivetrain components will last longer.
Regular Tire Maintenance Improves Road Safety
Like we mentioned above, being safe when you're on the road is always paramount. The goal is to get from point A to point B safely, without any accidents. South Florida is home to some of the most congested roadways and interstates on the East Coast. Coupled with a summer season of heavy rain and temperatures that average 90°F, bald tires with hot, slick roads are quite literally an accident waiting to happen.
Car safety should never be risked because of worn tires. Keeping your tires balanced and rotated will maximize even tread wear for a prolonged period. The more even tread you have, the more grip your car will have. Additionally, eliminating any steering wheel vibration will also give you a better feel for the road and your surroundings. It's the responsible decision to make to keep you and your family safe.
It's a Small Price to Pay
Tire balancing and rotation for your Mercedes can be done at the same time. The good news is that it doesn't cost a lot to do and is quite a quick procedure. Your local Mercedes maintenance facility will be able to sort this out for you in a jiffy. When you look at the price of new tires, you'll see that regular tire maintenance will save you money in the long run. From one car geek to another? It pays to schedule routine tire maintenance. Rotating your tires every 5,000 miles will give you prolonged usage and enjoyment from them. Collins Avenue, here we come!
The Mercedes Maintenance Specialists
Foreign Affairs Motorwerks excels in all Mercedes maintenance. Additionally, we are experts when it comes to wheel maintenance and safety. We'll be able to perform a quick tire assessment on your vehicle. This will include a balancing measurement as well as a tire rotation check.
So, when was the last time you had the tires on your Mercedes balanced and rotated? Go on! We're ready when you are! Give us a call at (954) 746-0488 to schedule an appointment today. You can also follow Foreign Affairs Motorwerks' Facebook page to keep updated on our latest Porsche events and news. When it comes to professional auto and tire maintenance, Foreign Affairs Motorwerks has you covered.
---