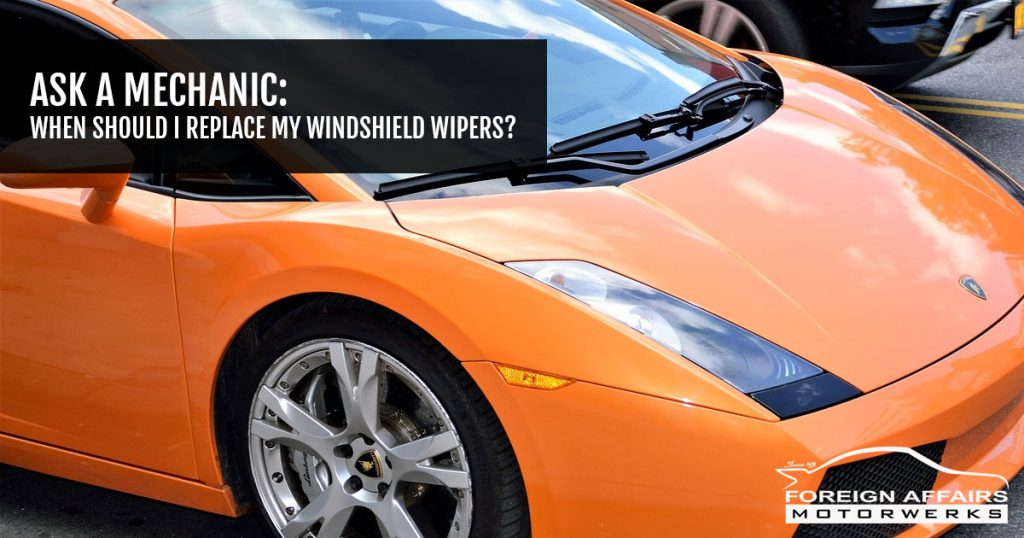 Car manufacturers are continuously trying to make cars safer. From improved crumple zones, to collision avoidance technologies, cars have never been safer. But there is one safety feature that has remained a constant since its invention in 1903: the windshield wiper.
Windshield wipers can be credited for saving thousands of lives every year, clearing snow and water that would otherwise obstruct a driver's field of view. While it may be difficult to tell when you need to replace your car's windshield wipers, a mechanic or auto repair center can help you decide if it is time to replace your wipers, and which wipers will fit your car.
When Should Wiper Blades Be Replaced?
Most manufacturers recommend you replace your car's windshield wipers as part of your yearly service, or once a year. If you must service your car multiple times a year, many premium brands, such as Mercedes-Benz, will replace windshield wipers as a service item, like air and oil filters. However, any mechanic will tell you to replace your wipers as soon as you can see any damage.
Wiper damage to look out for includes:
Streaking and Skipping
The most common sign your wipers need to be replaced is when they begin to leave streaks on your windshield, which will often be accompanied by a squeaking sound. Another sign is your wiper not gliding smoothly on the windshield, making several small jumps during the wiping cycle.
Hard Rubber
If the rubber on your wipers have hardened and is no longer flexible, it makes them more susceptible to cracking and breaking. Hard rubber will reduce wipe quality, as it cannot bend and flex to make strong contact with the windshield.
Rust and Corrosion
If your wipers have visible corrosion and rust, it may be likely that the mounting points and joints have begun to corrode as well, which can affect the contact that the wiper makes with the windshield.
Now we know what you're thinking: living in Florida, we see absolutely no snow, so replacing wipers annually isn't necessary. This simply isn't true. Florida has one of the highest UV indexes in the country, and these UV rays can cause as much damage to your wipers as snow. The humid air will still corrode the metal on your wipers.
Choosing the Correct Replacement Wiper Blades
The most common windshield wiper setup is two wipers of equal length that move in the same direction in sync. Sometimes different manufacturers use various combinations of wiper blades, wiper arms, and wiping orientation to maximize the efficiency of the wiper for different applications. A mechanic will be able to recommend the correct size and orientation of wiper blades to suit your vehicle and fit them to maximize their efficiency.
Your mechanic will also recommend the best quality wipers for your vehicle, such as Bosch, whereas many auto part stores may push lower quality wipers and store exclusive brands. When replacing your wipers with those from inferior brands, you run the risk of the wipers fading and hardening prematurely or having mounting systems that do not mount the wipers correctly.
Keeping Safe In The Rain
While wipers do an excellent job at keeping your windshield clear, having full control over your car is still important. Along with having your wipers checked, take time to ensure your car's wheel alignment is correct, and consider fitting tires with an excellent water dispersion, such as those offered by Michelin.
Your safety is our biggest concern. If your car hasn't been inspected in a while, or if you're getting ready for a road trip, feel free to visit us in Pompano Beach, where one of your performance shop pros will be able to ensure your car is as safe as possible. For all your automotive needs, think Foreign Affairs Motorwerks, South Florida's Premier Auto Repair, Performance & Race Facility Since 1978.
---