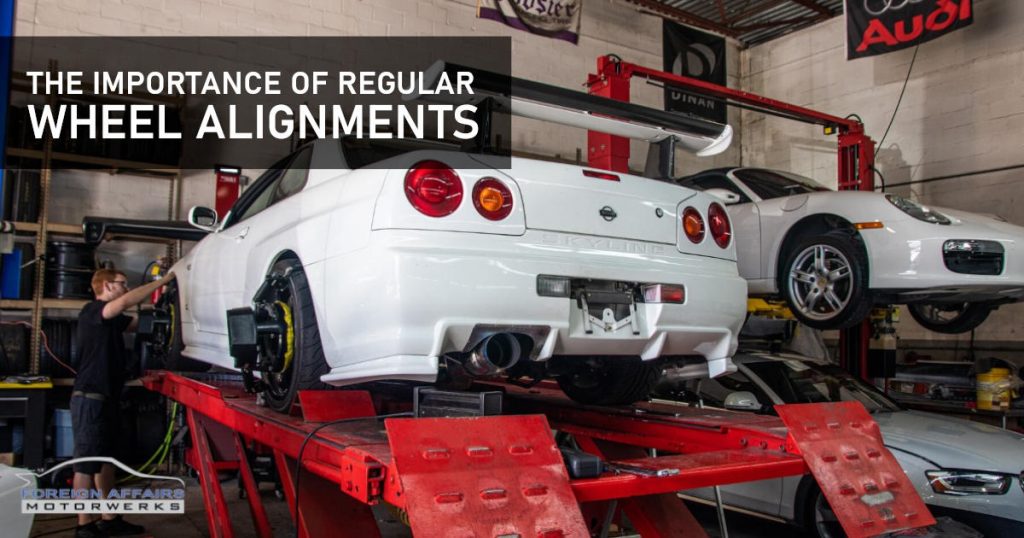 Proper wheel alignment plays a big role when it comes to the handling and safety of your vehicle. Correct wheel alignment not only improves vehicle handling and tire wear and tear, but it also improves fuel efficiency. If you've ever noticed your steering wheel pulling to the one side whilst driving, that could well be a wheel alignment issue. Let's take a look at what wheel alignment is and the importance of regular wheel alignments.
What Is Wheel Alignment?
Wheels and tires can easily become misaligned due to bad road conditions, unchecked driving habits, or even just hitting a large bump in the road. Front wheels are the most susceptible to encountering alignment issues as they play more of a role in steering the car. Wheel alignment is the process where the angles of the wheels are adjusted to manufacturer specifications. Wheel alignment requires specialized equipment and should be performed by an experienced auto repair facility.
The Benefits of Regular Wheel Alignments
Correct wheel alignment comes with some key benefits. It's for these reasons that you should check your wheel alignment on a regular basis. Let's take a look at why scheduling regular wheel alignments will help you.
Better Fuel Efficiency

When your wheels aren't alignment properly, they won't be worked together as a unit. One or more of your tires will be pulling against the others causing the engine to work harder to propel the car forward. This will reduce fuel efficiency. You may not see it in the short term but over a while, it will definitely take its toll.

Smoother Driving

A corrected wheel alignment will take care of the pulling or drifting to the one side. It helps your car to drive more smoothly and in a straighter line. Although you may not realize it, that constant overcompensation when driving with bad wheel alignment will tire you over time. Correct wheel alignment allows your car to operate at the best of its ability and helps you to focus on the road. A reputable wheel alignment facility will be able to correct any issue and give you a far smoother driving experience.

Improved Safety

A car that's constantly drifting to the one side is a safety hazard for you and for those around you. It could just take one moment of lost concentration for your car to drift too far and cause an accident. Scheduled maintenance of your car will ensure that safety standards are maintained to the highest level.

Increase Tire Life

Over time, your tires will take a knock when your wheel alignment is out. Your car's pulling to the one side has a direct effect on your tires as they are making constant contact with the road. When you compensate for bad wheel alignment with more effort on the steering wheel your tires will begin to wear unevenly. The result is that you'll end up having to replace your tires more regularly. Make sure you do all that you can to extend the life of your tires.
The Wheel Alignment Specialists
When it comes to professional wheel alignment, Foreign Affairs Motorwerks have you covered. We are the experts when it brakes, suspension, and general wheel safety. We'll be able to perform an accurate wheel alignment assessment on your car and correct any settings. Make sure your wheels are safe on the road by entrusting us with all of your scheduled maintenance.
---