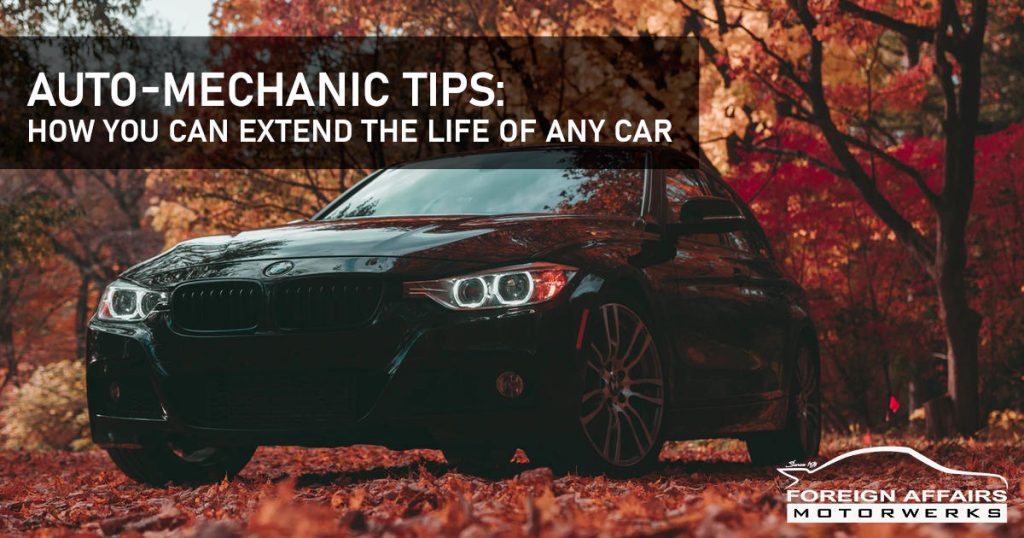 Most people have one shared goal when it comes to motoring. We all want our car to last as long as possible. But this doesn't always come naturally, and cars, unfortunately, don't look after themselves. A simple task like washing your car can play a big role in increasing its life. How do you know if you're taking good care of your car? Here are some top auto mechanic tips to extend the life of your car.
Wash And Wax
Washing your car is an easy way to keep its body in good shape.
More than just for looks, your car's body and paint job protect it against the harsh elements. When bits of debris like bird droppings sit on your car for too long, they can begin to eat into the paintwork. Anyone can wash a car, or at least drive it to an auto car wash. It's also wise to wax your car twice a year. Wax protects your car's body from the sun, rain, snow, and even salt. It creates a slippery surface that prevents these substances from sticking onto your car. Waxing your car will prevent rust and protect your car's resale value.
Change Your Oil Regularly
Oil plays a vital role in keeping your engine cooled and lubricated.
Over time, oil begins to degrade and loses its effectiveness. Over time this will create friction which will wear your engine down and could result in complete engine failure. Nobody wants to have to replace an engine, but regular oil and filter changes are a sure way to prevent this. It's recommended to change your oil every 3,000 miles. It's also good to change other fluids such as transmission fluid, brake fluid, and your radiator coolant. All of these play important roles to keep your car functioning at high capacity.
Swap The Filters
Next up are the filters. These protect your engine from various kinds of debris. Air filters sift out the dust in the air, while oil and fuel filters prevent abrasive materials from entering your engine. It's best to check your owner's manual to know when to change these. Alternatively, a reputable auto repair facility will be able to advise you on when to replace the various filters.
Park Your Car In A Garage
If you have a garage that's being used for storage, perhaps it's worth having a garage sale to create some space for your car.
Storing your car in a garage will do wonders for its longevity. A car that's indefinitely exposed to the elements will be prone to rusting quicker and you'll find yourself having to deal with body shop repair bills over time.
Inflate Your Tires Correctly
Correctly inflated tires will last a lot longer. It's best to get in a habit of checking your tires on a monthly basis.
Tire pressure can fluctuate a fair amount, especially when there are changes in temperature. Any seasonal change will result in tire pressure fluctuations. Make sure you check the owner's manual to know what your correct tire pressure should be. It's also good to rotate your tires every 6,000 to 8,000 miles to keep a balanced wear pattern.
Preventative Maintenance Is Key
It's easy to put off minor repairs to save money, but over time minor repair issues can become major repair jobs. Failing to repair one component can also result in another problem developing. For example, driving with a broken water pump can cause your car to overheat and cause irreversible engine damage. It's best to perform preventative maintenance through an experienced facility as this will prevent problems before they begin to cost you over time.
Rely On A Reputable Repair Facility
At Foreign Affairs Motorwerks, we have an expert team of skilled technicians to see to all of your car maintenance needs. With over 125 years of combined experience, you find peace of mind as you build a long-term relationship with a team that is passionate about European cars. Why not swing by our Pompano Beach shop for some friendly advice on how to keep your car running for a long time to come.
---