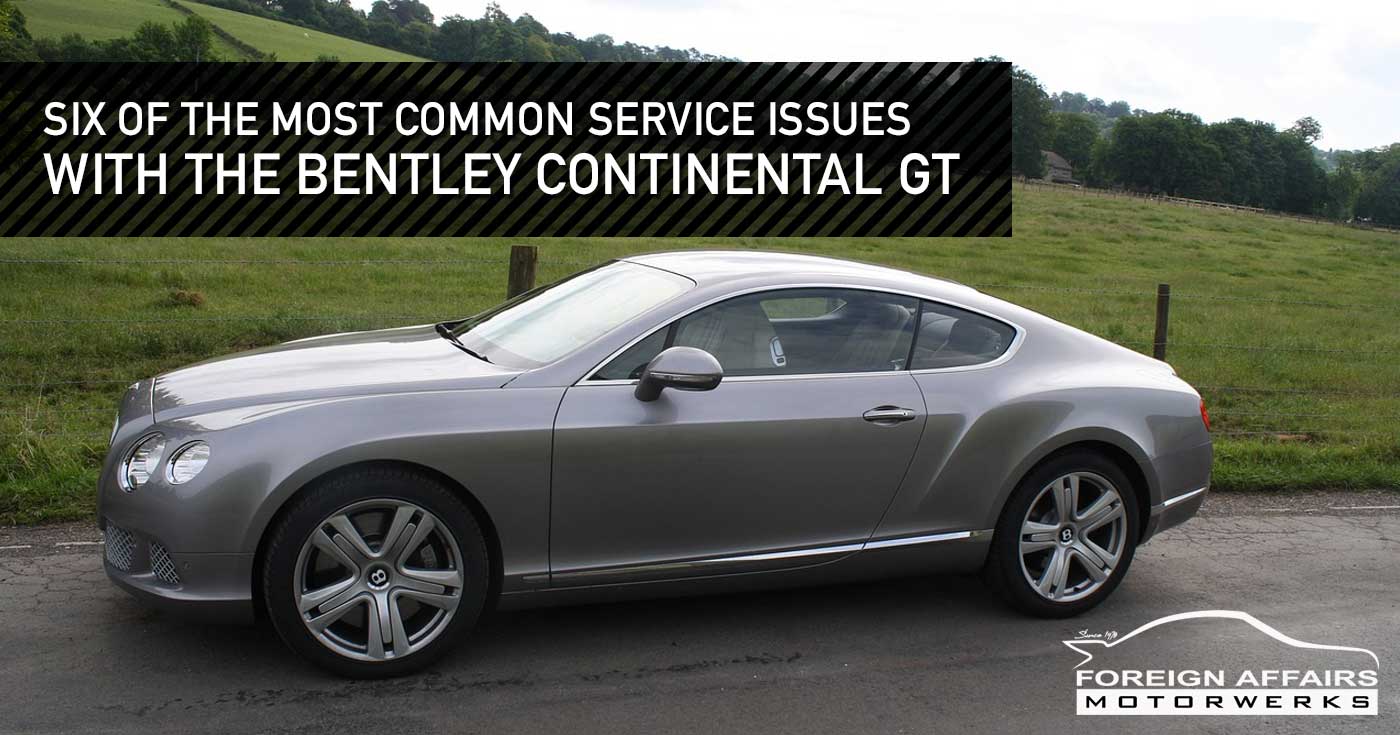 Bentley vehicles are precision-crafted, offering you luxury coupled with a stellar performance. It is no secret that their reputation is hard-earned. But – these vehicles can be taxing to own. The only way to maintain their performance is an unmatched commitment to both care and repair – At Foreign Affairs Motorsport we are proud to offer Bentley service.
Here are six common issues with the Bentley Continental GT that just cannot be ignored.
1. Difficult Routine Maintenance
All vehicles need regular factory scheduled maintenance – which should happen at every mileage milestone your vehicle reaches.
The Bentley Continental GT throws a spanner into the works here because the precision engine has an extremely tight fit into the body. This means that a typically straight-forward task, like changing a spark plug, requires an engine lift for access.
2. Suspension
Bentley makes use of an air suspension system. This form of vehicle suspension is powered by an electric or engine-driven pump, and makes use of pressurized air, as opposed to pressurized liquid which is used in hydropneumatic suspension systems.
When an air suspension system begins to show signs of age, one end of the vehicle (generally the front) will sit slightly lower than the other. Complete suspension failure is characterized by a knocking noise coming from the front end of your vehicle.
This needs to be fixed as quickly as possible because the symptoms worsen the problem. A deflated airbag (or air spring) can wreck the compressor entirely. At Foreign Affairs Motorsport, we can easily fix this problem by fitting replacement suspension parts.
3. Brake Light Failure
It has been found that the highest brake light on the GT goes out before any of the others. It is located in the middle of the rear end, just above the rear window.
Although a common problem with this model, it is fairly simple to replace. Usually, we will replace the entire unit to fix the problem.
4. Frequent Brake Hoses Replacement
Bentley recommends having the brake hoses replaced every 5 to 10 years.
This guideline is for all models and not just the GT, but first-time Bentley owners are often surprised at this frequency. These replacements are required this often because of the high-end design, which needs more care to remain in its prime condition.
5. Electric Window Failure
No, you haven't broken your window, and it probably hasn't failed on you yet. The GT has been known to have electric window failures, and this issue will follow a slight hissing sound. If you hear this, it's time for a repair.
Because of the overall lifting system, this repair is not a straightforward motor swap and can be quite complicated to perform. You will most likely need a replacement unit because the motor cannot be replaced on its own.
6. Electrical Problems
Apart from the electrical window failure, Bentley owners have reported that faulty icons show up on their dashboard.
These could say to check the air pressure or the engine itself – but can be a small problem or a much larger one. We recommend erring on the side of caution and bringing your Bentley in to find out what is causing any electrical problems you are facing and prevent them from building up into a bigger problem over time.
Bentley Service In Pompano Beach
Whether your Bentley has one of the problems listed above or not, routine maintenance will ensure your vehicle remains in perfect condition. Because it is not a regular vehicle, regular mechanics won't cut it. Make sure to use a reputable luxury vehicle technician for all your luxury vehicle needs.
---