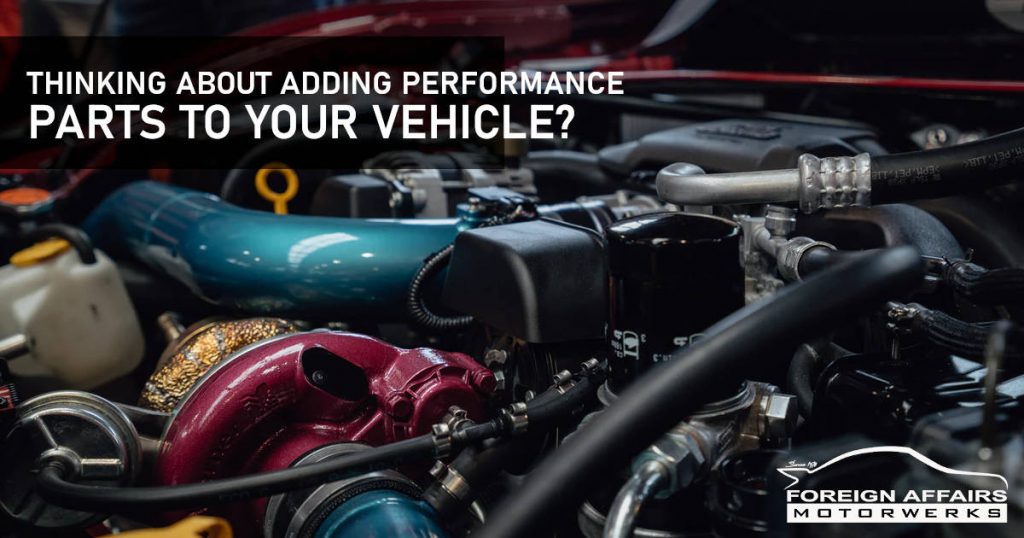 Not everyone is born a petrol head, yet most of us have experienced the effects of performance modified vehicles. Perhaps it's through that high school friend or family member who always runs sporty vehicles. It could even be from watching NASCAR or formula one championships. Not something that you ever thought you'd be involved in until…
…Fast forward a few years, suddenly you find yourself with the foreign urge to own a performance car. Perhaps you inherited it, or finally got the chance to buy your childhood dream (for example the Aston Martin DB9) at a less stratospheric price. Whatever the reason is, now you're the proud owner of your very own sportscar. So, what's next?
From Foreign Affairs Motorwerks, welcome to the performance community! As you may already have realized, there is much more to owning a performance car then meets the eye. Performance and performance parts; that's what this guide is all about.
Questions To Ask Before Adding Performance Parts To Your Auto
Adding performance parts and performance tuning your auto is no small feat. There is a fine line between an elegant modification and botched job which has to be carefully navigated. If you are starting out there are two major questions you need to ask yourself.
1. Is My Vehicle Compatible With The Modification?
At Foreign Affairs Motorwerks we see many different marques in our shop. Specializing in European vehicles has been our forte for over 30 years, so it's fair to say that we are familiar with the continent.
One thing we have learned is that not all models within a marque will be friendly towards mechanical modification. Let's take BMW for example. A BMW 3 series will usually be more friendly to mods than a BMW 5 series. There are also more aftermarket solutions (like chip tuning) available for BMW gasoline power plants as opposed to their diesel alternatives.
We aren't saying that you can't have your free-flow exhaust system on your E91 diesel, just that it may cost significantly more than if you were fitting it to a straight six E46. If you are looking to buy a performance vehicle, why not pop into our shop and learn firsthand which models will be the most customizable?
Whether your vehicle is capable of accepting advanced performance modification or not, appearance is something that is always changeable. It is also something that is very personal. Whether you are interested in subtle visual modifications like Mercedes styling or if you'd rather go all out on a new matte paint job and wheels from Carbon Revolution, we are with you every step of the way.
2. How Much Bang For My Buck Will I Get?
'Money talks,' – Neil Diamond once said, and the cost/benefits of performance modification is something that is very important. This is where in depth knowledge of your specific model becomes invaluable. Spending a small fortune on upgrading your suspension system when it is already over adequate for the amount of power that your vehicle produces will be a waste of your time and money.
On the other hand, if your brakes aren't up to the rigors of a track day, fitting a custom set from Pagid Racing could save your life. Sometimes the two go together. If you are thinking of a power enhancement like custom cams and cranks or a biturbo system, we will make sure that the rest of your vehicle systems can cope with the increase in power.
Performance Parts Experts In Pompano Beach
Information is king, and you can never do too much research into the area before committing to a modification. Pulling the plug on something that you've discovered won't perform the way you expect it to is much easier then reclaiming your hard earned cash once it fails. We believe in fitting only genuine aftermarket or oem parts, and quote accordingly. You are welcome to use the cheaper competition; in our experience it will cost you more in the long run.​​​​​​​​​​​​
Hopefully by now you are somewhat aware of finer details involving fitting performance parts to your auto. If this is old hat to you already, check out some of our more niche modification guides. Call Foreign Affairs Motorwerks at 954-746-0488 to talk performance parts today!
---