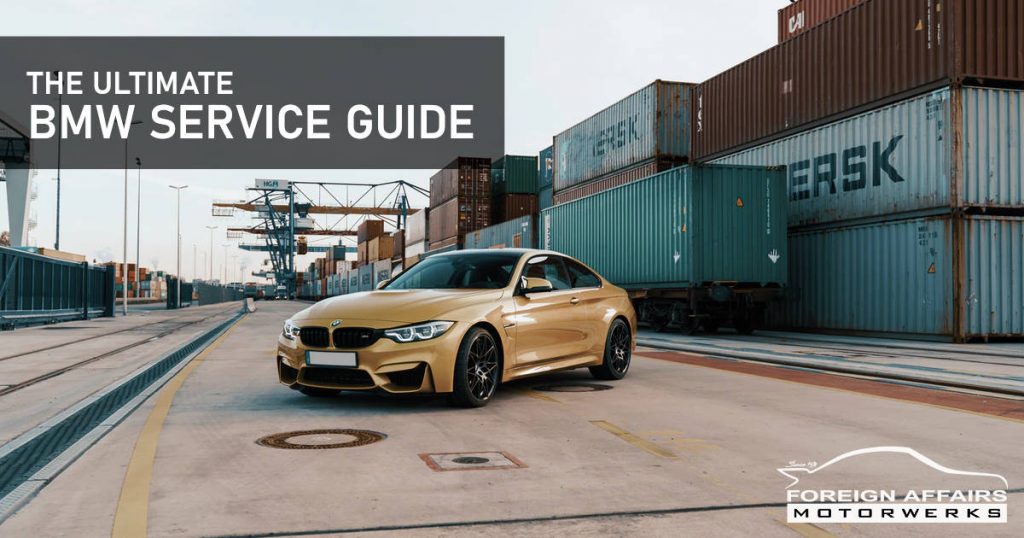 BMWs are well engineered, technologically advanced vehicles. They have a long automotive history stretching back to when Elvis was top of the billboard and beyond. Often considered the pinnacle of luxury and sportiness, they have a large global presence and (if you look carefully) are behind more exotic marques like Rolls Royce.
So, you don't need regular BMW service then, right? We said well-engineered, not indestructible. BMW actually have a very well thought out servicing schedule (in our opinion, one of the best). Although it can be tricky to navigate, we do have a handy guide to make it a little more understandable.
So, in this article we are going to take a look at three problems that may occur in between your BMW service intervals and how to deal with them.
1. Squeaking Brakes
Rather like nails on a chalkboard, squeaking brakes are a very unpleasant sound. At Foreign Affairs Motorwerks, we take your safety very seriously, so this is not a problem to just forget about. Squeaking brakes are usually caused by one of two things:
Aftermarket Brake Pads

If your last brake service wasn't done by BMW, chances are quite good that you have had aftermarket brake pads or rotors fitted. Poor quality aftermarket parts are often manufactured using a totally different (less specific) process than the originals. Consequently, they may be more 'grabby' then the genuine ones, wear faster, or make more noise. This isn't necessarily a problem, but something that you should get checked by an expert. This can also occur if you have fitted custom brake upgrades to your vehicle, but is much less likely as properly modified brake systems use excellent components.

Worn-Out Pads

If the squeak has more of a metallic quality to it, the abrasive compound in your brake pads may be completely worn away. This is a potentially dangerous situation as you may lose braking force, especially in wet driving conditions. It is very important to get this urgently checked.
This is by no means an exhaustive list of possible causes of brake problems, there are many others like fluid leaks or faulty computer control and damaged brake lines. As a heads-up, it is also important to change your brake fluid every two years, as it is hydrophilic and loses effectiveness.
2. Difficult Starting Or No Start
This can often be attributed to a failing car battery. Lead acid batteries of the type fitted to most passenger cars typically last four years. If you cannot find when your car battery was last replaced, it is most likely due to be changed.
Starting problems can also be caused by the computer not getting accurate sensor data. Most times a sensor just needs to be cleaned, but occasionally one needs complete replacement. The most obvious sign of this is when the check engine light does not switch off after starting the car.
Finally, another common cause of starting problems is a dirty fuel system. If you have a gasoline BMW, try to find some injector cleaner which you add to a full tank. Once it has run through the system you will be amazed at how much easier your Bimmer starts and runs.
3. Smoky Exhaust
Before you rush off to get quotes on rebuilding the engine, there are a few things you can check. If your BMW is a diesel model, this is often related to injector problems and unfortunately there is no quick fix. The injection system will need to be refurbished and/or replaced, depending on the problem and the number of miles you have done.
If you drive a gasoline Bimmer, smoke can often be caused by a faulty crankcase ventilation system or an overfilled sump. Fixing this is easy and shouldn't cost more than a couple of hundred dollars. However, heavy blue smoke can indicate worn piston rings, and, in this case, the engine will need to be rebuilt.
BMW Service In Greater Fort Lauderdale
Hopefully by now you know your BMW a little better and if you are a fanatic, have learned something new. With any vehicle, servicing is key and at Foreign Affairs Motorwerks, our ASE certified team will always put your needs first. Call us at (954) 746-0488 to get your BMW service done, today!
---