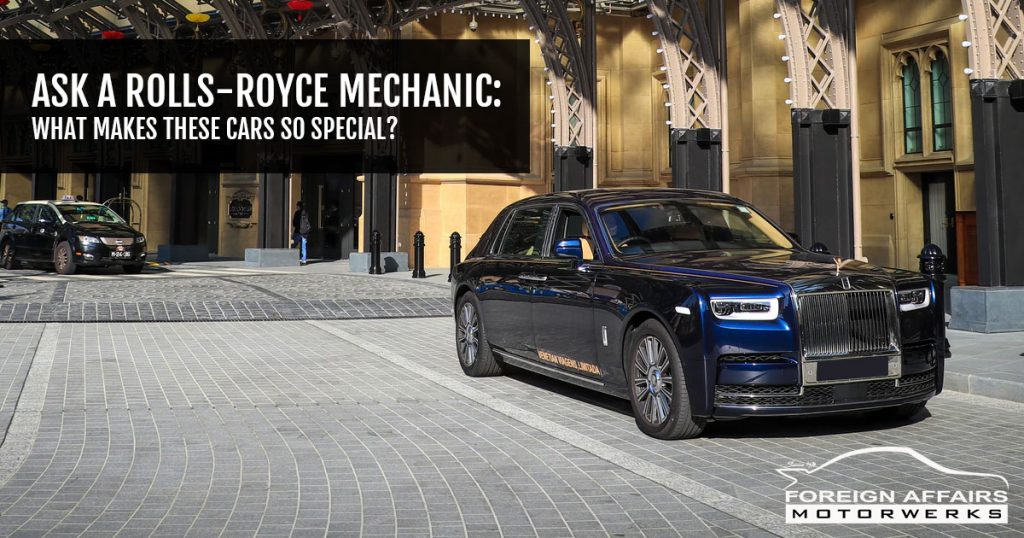 The Spirit of Ecstasy flying front and center ahead while you swallow up the miles disturbed only by the note of gravitas the clock on the dashboard brings to the star lit cabin. This is the stuff dreams are made of. This is Rolls-Royce. Have you ever wondered what it is about the brand that is so different, yet so alluring to what was once known as the 'jet-set'? You're best off asking the guys who have the most experience with the brand, yet never own one. You guessed it; your Rolls-Royce mechanic. So, let the footman open the door to five reasons Rolls-Royce is unique.
1. Status
What do Justin Bieber, Jay Leno, Freddie Mercury, Tom Brady and James May all have in common? Yes, you guessed it. They all own or have owned the legendary brand. In fact, if you ask most celebrities, they have or do own at least one Rolls. There isn't another automotive brand that can lay claim to this title.
When the Royal Family in the UK dropped Bentley in favor of Rolls in the 1950's a special vehicle was created in their honor; the Phantom IV. Only 18 of these were ever produced once again underscoring the exclusivity that the brand bestows. Until this day Rolls-Royce will work closely with its customers to create a car that is more like a suit; tailored to their exact specifications. This has led to some crazy different cars over the years.
2. Overstated Understatement
Paradoxical how this brand seems to strike the perfect balance between the two. There isn't quite another vehicle with as much presence, or gravitas as a Rolls. Indeed, some of the more premium manufacturers try too hard to achieve what Rolls-Royce does with seemingly effortless ease. We say seemingly because only your Rolls-Royce Mechanic would know that every pinstripe on every Rolls-Royce since 2003 has been hand painted, by one man. That is the level of detail that the brand demands.
Once again, step into the sumptuous interior and you experience the yin to the yang of the outside. Everything is muted with passenger comfort being heavily accented. Premium natural materials like wood, bull leather (cow leather might have stretch marks, old boy) crystal and gold abound cleverly weaved into modern technology like LED stars, GPS, infotainment and HVAC. This is so carefully done that nothing is brash or 'in your face'.
3. Engineering Heritage
There isn't another company that powered the Spitfire during World War II, made luxury cars, jet engines, nuclear power equipment and machine guns. True, desperate times call for desperate measures, but the sheer versatility of the company is captivating. Cruise through more than a century and the Phantom still has massive power reserves, but manages to get you up to speed without you realizing it. A Rolls-Royce doesn't lose composure. It simply outclasses the competition.
4. Weight
So, you thought that a Tesla was heavy? Well, think again. While Mr. Musk may have one of the most innovative modern modes of transportation, but a Rolls-Royce Phantom is still the heaviest road car produced (I said car, we're not discussing Sherman Tanks here).
So, why is is this important? If we re-visit some high school physics, we'll learn that inertia is a function of mass. So, the more a vehicle weighs the more it resists a change in motion. Great, you've just proved that we need a more powerful engine to shift the Rolls' extensive coachwork. Yes, but inertia also resists movement over bumps. That is why a Rolls-Royce rides more like a magic carpet than something with four wheels. Bumps simply don't exist anymore. In addition to this, some of the extra weight comes from the extensive sound deadening that is used throughout the vehicle. You should be able to drive your Rolls through a thunderstorm while still being able to hear a pin drop inside the cabin.
5. About The Passenger
Usually cars are about the driver. Most of the cars we discuss at Foreign Affairs Motorwerks (think Porsche, Lamborghini, McLaren) are. You never alight from the front of a Rolls Royce. You have a chauffeur; preferably one that you've sent to Rolls-Royce chauffeur school. The controls emphasize this point. There is a 'power-reserve' indicator in place of a tachometer. A standard P-R-N-D shifter suffices, none of your complicated sport comfort or comfort sport modes. With Rolls-Royce, it's about reaching your destination without ever leaving the Beverly Hills.
Rolls-Royce Mechanic In Pompano Beach
If you fancy Rolls-Royce and you're lucky enough to own one, you'll want only the best of the best working on your luxury marque. At Foreign Affairs Motorwerks, our Rolls-Royce mechanics have decades of experience so you can trust that you're always in good hands.
---