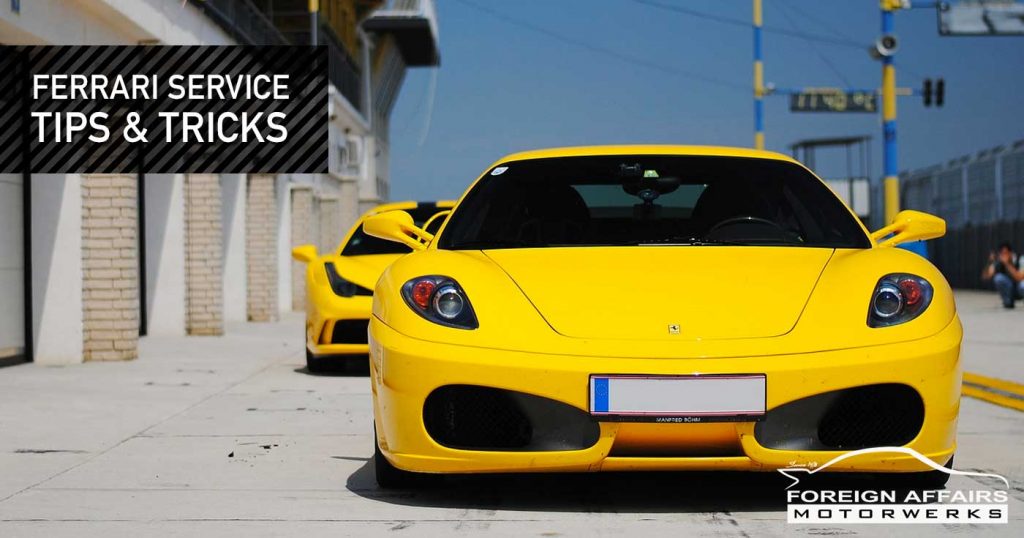 There are few things in life as rewarding as owning a Ferrari, with the hand-built engines, Italian styling, and racing pedigree they have become synonymous with being the very best a sports car can be. Whether your Ferrari is vintage or something more modern, a screaming V12 or turbocharged V8, it's important to know that servicing your Ferrari applies to more than just your engine. Here are a few more maintenance tips and tricks to keep your Ferrari in top condition in between services.
Keeping Things Lubricated
It may seem obvious, but making sure everything is running smoothly and with as little resistance as possible. When it comes to your engine this means keeping your engine oil in the best condition as possible. This means replacing your Ferraris oil at regular intervals. It's recommended that your Ferrari use synthetic oil, which lasts between 7,500 and 15,000 miles. Synthetic oils are recommended as they are more refined and do not get dirty as quickly as traditional oils, which means they last longer. Synthetic oil also retains its fluidity at higher temperatures and does not become as viscous as traditional oil.
Ceramic Coatings
Ceramic paint coating is a new technology that adds a whole new means of protecting your car and is not to be confused with thermal ceramic coating, which is a permanent coating that can be applied to hot parts of your engine to help with heat dissipation. Ceramic paint coating is a liquid that you apply to the exterior parts of your car that aid in protecting your paint much like wax or a clear film wrap would.
The advantage of ceramic coatings is that it is easily applied and removed, is thick enough to protect your paint from scratches once applied, and due to its ceramic base is immune to acidic materials like bird droppings. Ceramic coating can also be applied to rims and brake calipers to protect them from carbon build-up and discoloration, allowing your Ferrari to keep its factory-fresh shine.
Interior Protection
Florida's harsh sun is one of your Ferrari's biggest enemies, followed by aging, and degradation caused by wear-and-tear from general use. The best way to keep your Ferrari's interior in great condition is by applying a protective product to the interior surfaces. A leather protector that has strong UV protective qualities will aid in preventing the sun's harmful UV rays from damaging and discoloring your Ferrari's leather. A protective product such as Opti-Guard Leather coating creates a hydrophobic layer over your car's leather, prevents water, oils, and other chemicals from being absorbed into the leather, allowing for the leather to be cleaned easier and maintaining your interiors factory finish. Protective coatings also keep your car's leather sufficiently moisturized so that it does not prematurely age and crack.
A Ferrari is one of the few exotic cars that are comfortable and luxurious enough to drive every day, but should your Ferrari be a weekend whip or occasional drive, it's important to know service tricks for exotic cars that are barely driven. Should your Ferrari be due for its next service, or you'd like to make your Ferrari more unique and an even bigger kneck-breaker, feel free to visit us at Foreign Affairs Motorworks, South Florida's Premier German (and now exotic) Auto Repair, Performance & Race Facility Since 1978.
---