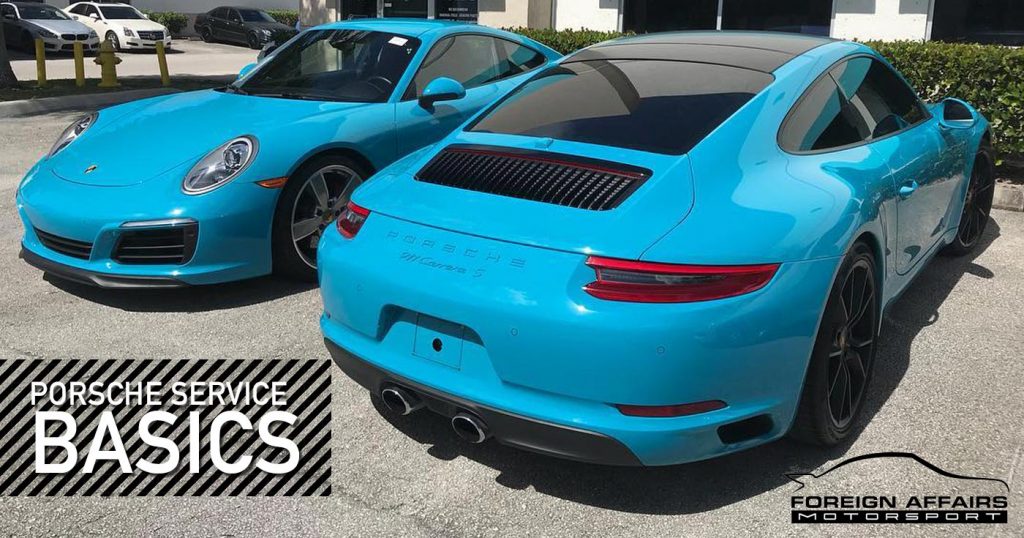 It's important to perform all recommended and scheduled maintenance on your Porsche. This helps keep your Porsche running in tip top condition and can save you a lot of money from parts wearing out. Luckily if you own a Porsche all this will come to an end soon with Indicator Based Service system. It helps monitor your oil's life and engine lifespan. However, till Indicator Based Service systems come standard on all cars, for now you'll have to manually take your car in for a Porsche Service.
Let's take a look at what goes into a Porsche Service so that you can better know your car and what it goes through.
There are 2 important types of services which happen on Porsches. Namely, a minor service or a major service. Both of these services happen at different times in your Porsches life span, with minor services happening more frequently.
Minor Services
Although every minor service is different from the next depending on how far your Porsche has driven, this is a list of everything which a minor service could entail.
Oil Service

This does not fall directly under a minor service as you have to have your oil serviced approximately every 30 000 km (18640 Miles) after the first oil service at 15 000 km (9320 Miles). Please note this varies from Porsche to Porsche and is a rough indicator, check with your service book to be sure. An oil service involves checking the oil and replacing it should fault or determination of quality be found.

Brake Fluid Change

This happens in all minor and major services to ensure that your breaks are working at peak performance.

Drive Belt

A drive belt is a belt which is constantly in use driving peripherals in your Porsche such as the alternator, air pump, water pump and power steering pump. It is an integral part of the engine. Drive belt inspection is considered part of the minor service and is generally replaced at around the 90 000 km (56 000 Miles) mark. Minor services check the condition of the drive belt and replace it should if necessary.

Transmission Fluid

The transmission fluid or clutch fluid is changed in order to ensure your PDK transmission runs smoothly and never fails.

Tire Pressure Monitoring System

Minor services, excluding the first minor service will check the battery life of your tire pressure monitoring system to ensure it is working as expected.

Visual Inspection

Minor services will generally include visual inspection of certain parts such as the airbag units and rubber mountings for damage.
Major Services
Major services are usually the services which will cost you the most money and happen around every 60 000 km (37 000 Mile) mark. However, it's important that you don't miss a single major service as these are vital to keeping your car running.
Oil Service

As with the minor service, major services include this too.

Brake Fluid Change

This step also takes place in major services, to ensure peak performance of breaks.

Spark Plugs

Replacement of the spark plugs happens in a major service. Spark plugs have a limited life span and as such replacement should not be fore gone.

Tire Sealant

In a major service the tire sealant is replaced to ensure it works correctly when you use it as tire sealant has a limited shelf life.

Visual Inspection

As in minor services, a visual inspection is performed on all ancillary unit mounts and suspension. The visual inspection aims at finding faults on any and all rubber mountings.
While this list covers the basics of minor and major services. It's important to note that there are certain parts which require replacement at certain distance or time intervals, such as the drive belt at 56 000 miles. Be sure to check your Porsche manual or handbook for these specific replacement times. To find out more about what goes into a Porsche Service be sure to check out our Porsche Service Maintenance Checklist. So now that we know what goes into the two different types of services you can safely put your mind at ease knowing you have trusted professionals looking at everything which matters in your Porsche.
---