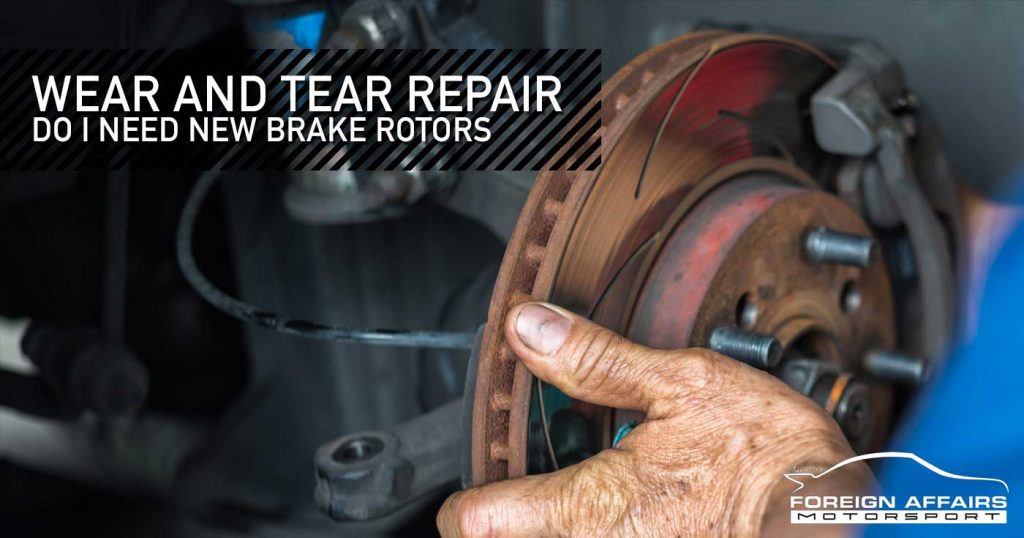 A brake rotor probably isn't something that you think about much. In fact, some of you may not know what a brake rotor is. To put it simply, a brake rotor is that shiny round disc that you sometimes see behind your car's wheels. Brake rotors are a very important part of your vehicles braking system. Over time, brake wear and tear can take its toll on your rotors. The question is how to know if your brake rotors need replacing or not? Let's have a look at the main symptoms of a worn-out brake rotor.
An Annoying Noise
Brake rotors are mainly made out of cast iron. As they wear over time, this cast iron layer thins, warps, and can even rust. The result is that when you brake, you may hear an unpleasant sound coming from the wheels. If the rotors are warped or severely worn, they generally make a squeaking or scraping sound that is easy to hear. There are a few common brake noises that can normally be heard. The good news is that all of these noises can be sorted out by contacting a reputable service center.
Your Brakes Have The Shakes
Another symptom is an excessive vibration that comes from the brakes. When brake rotors are warped, they tend to create a vibration that can easily transfer into the steering wheel. This means that sometimes you can actually feel the vibration in the steering wheel. Apart from the steering wheel, the brake pedal may also feel as if its pulsating when it's pushed. This happens because the brake pad isn't making solid contact with the rotor. Pedal pulsating should never be ignored as vibrating brakes aren't as effective at stopping a car.
How Do They Look
At a close-up glance, brake rotors should have a fairly smooth appearance. By taking a look at your brake rotors, you should be able to see if there is a visual scoring or grooving that has formed. As the rotors have repeated contact with the brake pads, these grooves or scores can begin to develop. These grooves can lead to uneven braking. In addition to this, wear and tear on your rotors, it can also cause dust and grit to form on the rotors, which can affect your braking performance. If you can see small grooves on your rotors, then perhaps it's time to upgrade your braking system.
Losing Stopping Power
A telltale sign is when your car begins to lose its stopping power. If you notice that your car isn't stopping as effectively as it normally does, then the problem could be with your brake rotors. This can result from a build-up of the above-mentioned factors such as warped or worn rotors. When you lose stopping power, you are ultimately compromising on safety. The result is that you could be placing yourself and others in a highly dangerous position by not relying on increasing stopping distances. Make sure your brakes are safe.
If you suspect an issue, it's best to book your vehicle into a service and repair facility as soon as possible. Make sure you place a high value on brake maintenance for your vehicle. Feel free to chat to us as Foreign Affairs Motorsport about booking your car in. We'll be able to inspect your brake rotors and give you sound advice on the best action required.
---