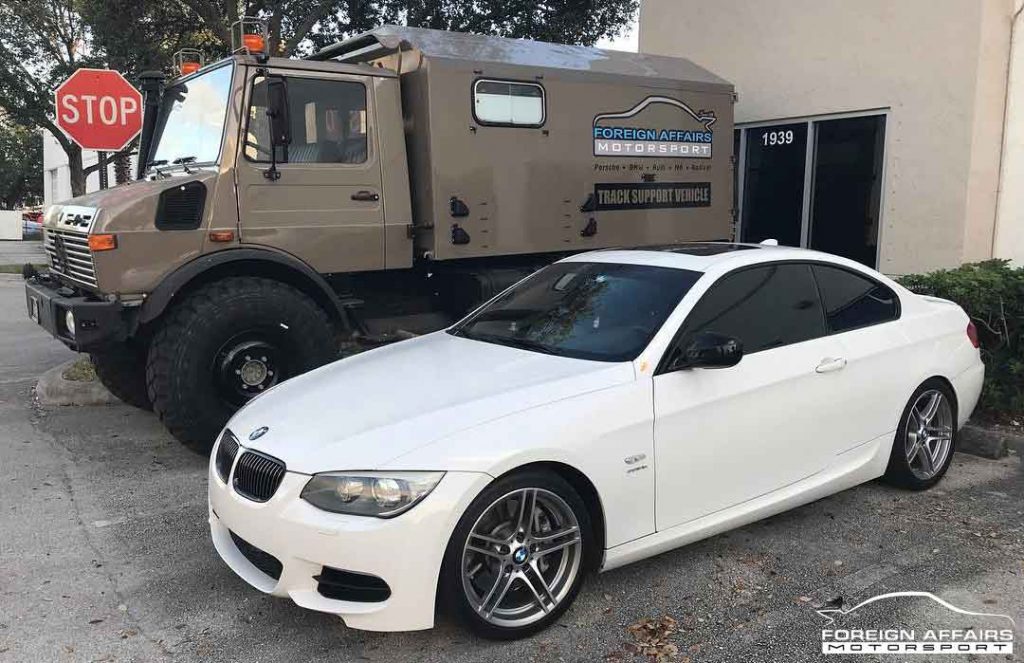 As the global economic climate worsens, consumers are continually looking for ways to get more bang for their buck; buying bulk, using less, and making things last longer. This article will look at a few BMW maintenance tips that you may not have thought of, which will ensure that you get the most out of your investment.
Everyone knows that car maintenance is an ongoing thing; oil changes, brake replacement and general wear and tear in accessory belts and pumps are taken care of by our team of experts at Foreign Affairs Motorsports, there are still some maintenance that you can do on a daily basis that will prolong the life of your BMW.
First Startup
Often when you get into your BMW for the first time during the day, you are in a hurry. Pressured to get to work and school, is easy to drive fast in a normal car. BMW's are even worse as you are unaware of your speed until you glance at the speedometer. You're driving during the initial 15 minutes after startup are crucial to the longevity of the engine as it is warming up during this period. My rule for a gas BMW is to try and not exceed 3000 rpm in any gear until at least 5 minutes after the heat gauge has become stationery. What this does is allow for the oil to circulate properly and reach a slightly higher temperature. This ensures adequate lubrication of the engine and drivetrain. Remember that the oil takes longer to reach operating temperature then the coolant, and so even once the heat gauge is stationery it is good maintenance practice to wait another five minutes.
A Clean Car Looks Better
Not only do regular washes keep your BMW looking well maintained, they also rid the body panels of contaminants that can cause premature corrosion or damage the clear coat. Trust me, nothing looks worse than a car with cracking clear coat. It is even more critical to clean your car regularly if you live in a winter snowfall area (unlikely in South Florida) as the salt and other chemicals used on roads are very harsh to your vehicles exterior.

Change Ancillary Fluids
Engine oil isn't the only fluid that circulates in your vehicle, but it the most regularly checked and changed. Other fluids are just as critical, but often garages overlook changing them according to the BMW maintenance schedule as they may be more expensive. It is critical to your BMW's running and your safety to check that brake fluid, gearbox oil and (in older models) steering ATF are changed at the specified times. It may seem like an unnecessary expense, but it will save you money at a later stage. If you are unsure when last these fluids have been changed why not visit our friendly ASE certified staff at foreign affairs motorsports for advice.
De-Clutter
Not only does having a year's worth of junk knocking around your BMW look dreadful, but it actually costs money. The more weight the engine and drivetrain need to move around, the more it costs in tires and gas. So, start off 2018 with a clean car.
Use A Sunshade
You may think that sunshades on the windscreen are for old people, but I assure you that it is a lot cheaper to fit a trendy looking sunshade when you leave your car in the harsh Florida sun than replace a cracked or flaking dashboard and center console.
These are just a few of the little things you can do to keep your BMW well maintained. Remember that it all starts with you. If you are unsure as to the service condition of your BMW, come and see us at Foreign Affairs Motorsports and our efficient staff will be able to answer all your questions.
---