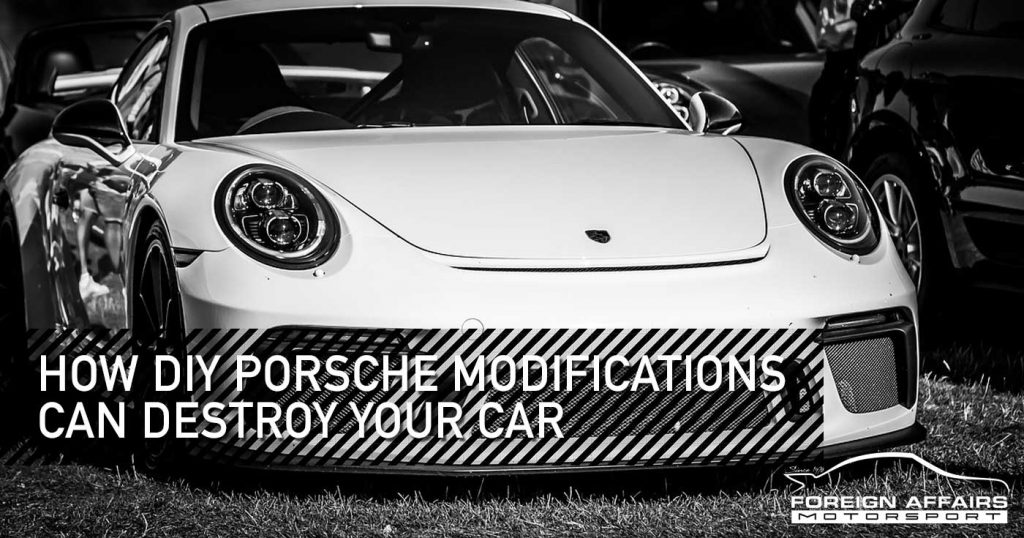 The design of a Porsche is unmistakable, from the Boxster to the Cayenne, each model carries a design that makes it stand out against competitors. The challenge many Porsche owners face however, is making their Porsche standout from other Porsches and truly reflect their own personality. While Porsche does allow for a lot of customization in their configurator, some owners believe it's not enough and opt for further Porsche modifications. While added customization can transform your car, DIY modifications always carry the risk of ruining your car.
The Trouble with DIY Modifications
Now we could fill several articles with why and how modifications can affect resale value, void warranties or do irreversible changes to your vehicle, but if you have set your mind on modifications, you'll know this already. Rather, let's focus on how DIY modifications can affect the usability, drivability and overall appeal of your car.
DIY Performance Modifications

The most common modifications that owners look for is to unlock the full potential of their Porsches with performance upgrades. These can be as simple as ECU tuning from Cobb, to full turbo installs and upgrades. While these upgrades can be done from home, the issue arises when professionals aren't involved. Professionals need to be involved as these modifications can create a car that is unbalanced. Although you may be significantly increasing your cars power, several other aspects of the car will be immediately affected. Increased power will affect braking, and in more extreme cases affect braking distance. This can make the car incredibly difficult to drive if the engine produces more power than the chassis can handle.

The next risk that comes along with DIY modifications are incomplete modifications. Some turbocharged vehicles make use of a diverter valve, that redirects additional pressure generated by the turbo towards the exhaust manifold to help spool the turbo up again. With a larger turbo, the pressure generated may be too large to reliably run through a diverter valve and would need the removal and fitment of an atmospheric dump valve instead.

Continuing with a DIY Turbo upgrade, these upgrades can reduce your car's reliability. A large turbo upgrade can make it more difficult to start the car, or apply more pressure to the engine internals that can cause expensive breakdowns, and require expensive engine rebuilds. Other mods such as injector swaps or custom made engine parts can make these rebuilds even more difficult as your mechanic will have to find suitable parts to ensure the rebuild is done correctly, and more often than not your Porsche service center will not be able to service or maintain your vehicle.

DIY Visual Modifications

A simple rim swap or custom body kit is one of the easier ways to modify your Porsche for a unique look. These modifications are notorious for seeming easy but become incredibly time-consuming jobs. Changing the rim on your vehicle has a lot more to do with your vehicle than purely aesthetics. It can completely alter the characteristics of your handling. Larger rims can make your car feel more responsive but make the ride harsher whereas wider rims will allow for wider tire that can help with traction but may rub against the wheel arches and cause body damage.

Custom body work may seem easy: simply take off the old part and fit new parts, but with your Porsche it may not be so simple. Remember that some kits require modification of other body panels that can affect sensors and cause some electronics to respond in an unpredictable manner. A custom bumper may also require changing of electronics, or the extension of cables leading to fog lights and PDC sensors, which introduce the risk of more serious electrical issues. Cars paints can also change with exposure to sunlight, and a premixed paint may not match the rest of your vehicle. Bear in mind that an unskilled car painter can ruin your cars paintwork by painting the new parts poorly which will lead to orange peel in the paintwork and uneven clearcoats.
Having a professional modify your vehicle makes sure that all the parts are compatible, are installed to the standard Porsche sets, and most importantly makes sure any modification only improves the quality of your vehicle, and can offer after sales support where Porsche no longer can.
---