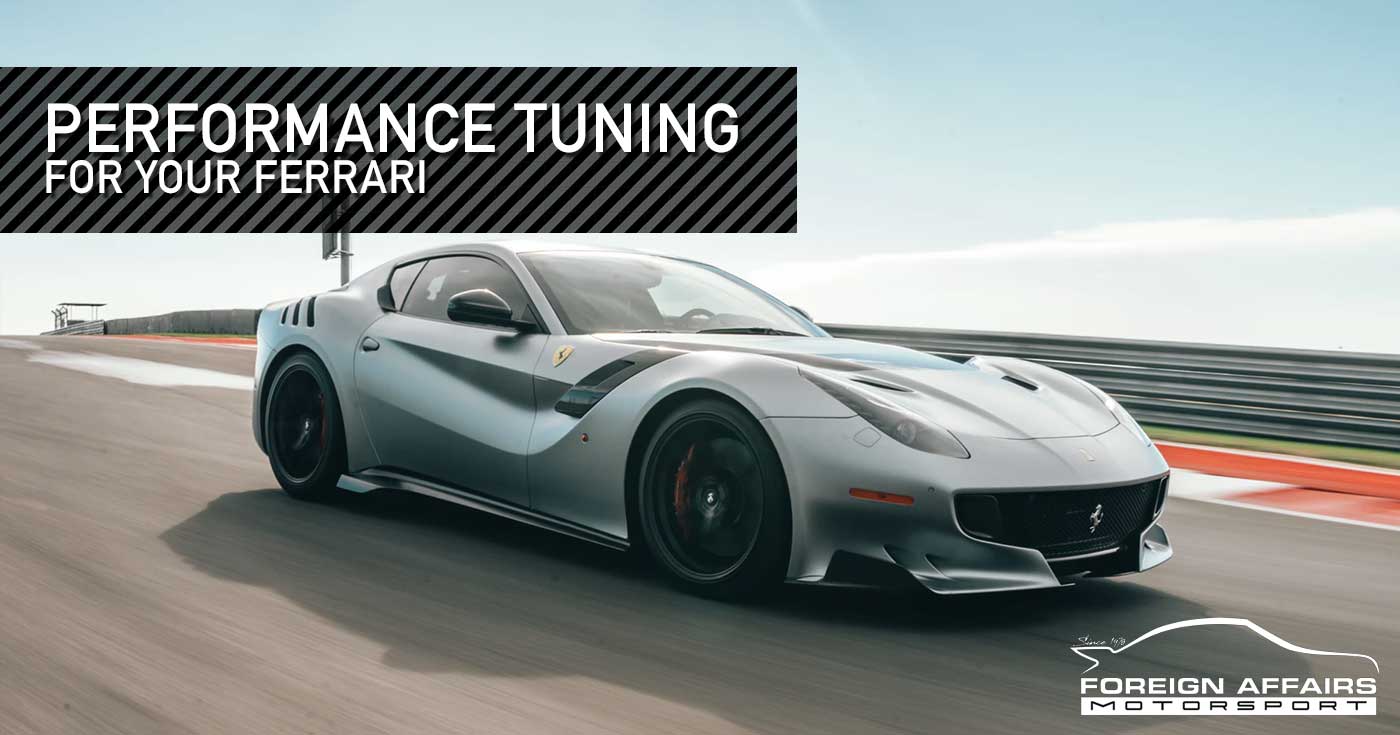 All musical instruments rely on the principle of moving air particles. There is nothing more beautiful than a well-played instrument when it is tuned. Ironically the same is true for your Ferrari. At Foreign Affairs Motorsport we like to look at cars as giant air pumps. The principle of efficient combustion relies heavily on the movement of air. When this airflow is carefully controlled by tuning, we achieve that glorious engine note that makes Ferrari stand out. Performance tuning is more of an art than an exact science. In this article, we'll have a look at some of the foundations that need to be laid to ensure that your Ferrari reaches its peak performance.
Start With A Solid Base
Performance enhancements push the existing design to its limits, so enough stress cannot be placed on the vehicle's overall condition before you begin modifying it. You need to ensure that all the perishables (belts, rotors, pads, clutch linings) are in excellent condition. The motor needs to have had regular oil services. Coolant systems have to be flushed and running at their optimum. There cannot be any under-body rust and all the suspension components (especially the bushings) need to be like new. If you have any doubts about your Ferrari's overall condition, pop in for an inspection.
Handling, Suspension, and Brakes
A Ferrari in tip-top condition is a joy to work on. At Foreign Affairs Motorsport we put your safety first, so the best place to start performance modifications is with the handling. Depending on your final goal for modifying the vehicle, alterations can be as small as a different anti-roll bar and stiffer track rods or as complex as a thoroughly new Bilstein centered suspension carefully specified by our skilled team. This is especially beneficial if you own an older Ferrari as suspension technology has improved and the benefits of a new system will be much more apparent.
Braking is another critical safety aspect, and modifications are available on a sliding scale from mild (improved composite brake pads and rotors) to wild, custom Brembo braking systems. The sky really is the limit and it all depends on you.
Engine​​​​​​
Once you can handle the power improvement, there is a range of upgrades that can be made to the motor. Simple changes can include improved air filters or running a performance oil. Then there is chip tuning, remapping or ECU swaps which can greatly improve performance with zero effect on engine life if done properly. Finally, there are internal modifications such as custom cranks, cams, pistons, and turbochargers. These modifications require the skilled knowledge we have built up over more than 30 years of working on Ferrari.
Body and Exhaust
Changes to your Ferrari's exterior are more related to personal taste than to performance, although air dams and spoilers can make a difference in how well your vehicle handles. Another good-looking performance enhancement is custom wheels. We have a wide range of rims available, everything from custom alloys to Carbon Revolution's ultralight series. Our paint booth can duplicate that exact metallic shade you've always wanted.
Finally, we get to the exhaust system. Using a custom exhaust system can bring real performance improvements. We fit systems by Akrapovic and can do modifications from custom tailpipes to full new stainless free-flowing systems. Ferrari engines roar and scream, but old or blocked exhaust systems can make them a little hoarse.
Tuning a Ferrari to your specifications requires skill, experience and most of all close collaboration with you; the owner. At Foreign Affairs Motorsport we like to let our heritage speak for itself.
---